Transactional SMS now forms a critical part of the business-customer relationship. According to the report by Coherent Market Insights, the global transactional SMS market is projected to exhibit a CAGR of 7.2% over the period of 2019 to 2027.
In fact, as per eMarketer, about 51% of US retailers in the pre-pandemic period had planned to increase investment in transactional SMS & SMS marketing, which jumped to 56% by June 2020.
Closely associated with customer behaviors and actions, transactional SMS, nevertheless, serves more than just simple notifications. As a matter of fact, it often holds the key to customer retention and business growth.
It enables businesses to deliver a comfortable & continuous customer service, and helps in cultivating a long-lasting relationship between the two.
The role of transactional SMS in ensuring an improved & impactful customer experience can be confirmed from a study by SAP & Loadhouse, according to which about 64% of consumers consider transactional SMS as an essential element of better customer service.
Keeping this in mind, here we have compiled three strategic tips/suggestions that will enable your business to leverage transactional SMS for optimum customer experience. But before we jump to the tips, let us understand the purpose of transactional SMS.

Purpose of transactional SMS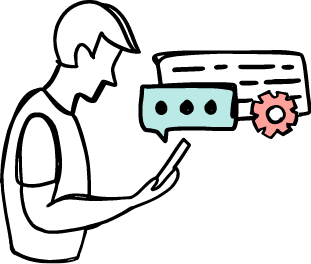 Transactional SMS are designed to define the communication between a business and its individual customers in relation to each customer's specific behaviors. These predefined behaviors act as triggers and push similarly specified transactional SMS towards them.
Being personalized to each customer and their actions, transactional SMS are characteristically and deliver critical information complementing an action. Transactional SMS, thus, accompanies the customer throughout the touch points of the customer journey – from the beginning to the end, and even in the after-sales phases.
As such, the chief purpose of transactional SMS is to meet the customers' demands individually and consolidate their end-to-end experience with the business through transparency, on-time information, professionalism, convenience, and value.
To understand the perspective more simply, the following uses of transactional SMS can be summarized:
To communicate the placement, confirmation, or cancellation of an order or an appointment.
To inform about any unavailability, availability, or any type of inconvenience in order processing.
To convey dues, confirmations, processing, or any type of inconveniences in the payment process.
To deliver information regarding any changed or altered time, location, or status of an order or appointment.
To provide updates about shipment and delivery status.

Three strategic suggestions for transactional SMSs
Now that you understand the purpose of transactional SMS, it is time to take a look at some strategic suggestions that will help your business to utilize transactional SMS at its best.

Ensure real time delivery
Transactional SMS convey critical & time-sensitive information. Naturally, you have to focus on ensuring the right timing of delivery. To avoid customer inconvenience, make sure that your transactional SMS are delivered in real-time, immediately upon customer action.
Instant responses on the customers' end will strengthen their trust and loyalty in your business and help in building a more powerful business customer-relationship.  

Make it conversational with a bit of a human touch
While to the point SMS with relevant & succinct content is appreciated, making your transactional SMS too technical or monotonous may repel customer interest.
Moreover, transactional SMS are meant to enhance business-customer interactions. Hence, adding a bit of a human touch to your SMS will not only make it more conversational, but will also deliver a sense of familiarity to your customers.

Customize as per your brand
Sending a critical SMS from an acquainted name, rather than from an unknown number, is bound to strengthen customer relationships with better brand presence.
Hence, customizing your business's sender profile with your business/brand name will make your SMS instantly recognizable and your customers will be able to respond to your SMS more comfortably. This will further enhance your brand transparency and improve customer experience.

Parting thoughts
The aim of transactional SMS is not to persuade a sale, but to make the experiences of the existing customers more worthwhile. By doing so, transactional SMS can potentially retain more customers and build stronger relations, which significantly help any business for long-term growth.
Moreover, the above strategic suggestions will help you to maximize the scope of customer relationship & experience to its optimum potential.