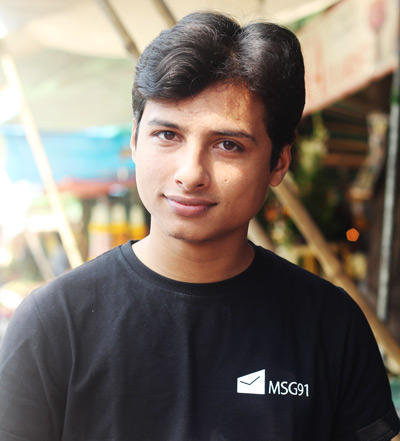 MSG91's Graphic Designer, Rahul Sharma loves his work. But that didn't prevent him from enjoying a prolonged vacation that he recently got at his hometown, Seoni.  Seoni is a remote district hidden away in Central India. So turned out Rahul's enjoyment at this quiet place had a slight twist. His house was being painted at the time. He soon found solace in observing the various shades being painted on the walls. However, even this was short-lived for his mother sent him off soon on a call of duty. The "call" is mostly a long list of things to pick along the way. And no man in India will have the audacity to defy the orders of a woman.
So our protagonist Rahul got on his bike like a dutiful soldier along with Sergeant Dad at the pillion, and off they went. After collecting various things on the way, they arrived at the last stop – Bharat Paint Shop. Rahul's eyes soon found colours spread all around and finally rested on the shopkeeper and his son. He sensed something peculiar. Both looked slightly at odds with Rahul. He cross-checked his appearance, creased the front layer of his hair and after some self-assurance shot a friendly smile at the duo. Much to his delight, they smiled back.
Rahul decided to break the ice and approached the shop owner directly. The shop owner returned the favour and invited him over to his cabin. They exchanged a few formal greetings and after a while he asked Rahul,"Where did you buy this t-shirt from?"
Rahul was taken aback by this unexpected query. He explained that he hadn't bought it but his company had given him the tee. The shop owner asked, "Oh! So do you work for MSG91?"
Rahul nodded in positive. The shop owner informed that he was one of the clients of MSG91 and that is why he had got so excited to see MSG91 logo on Rahul's tee. By now, Sergeant Dad had joined the conversation and the three of them got along and had a good long discussion about MSG91.
Rahul told him that he was a Graphics Designer at Walkover which owns MSG91 – one of the company's best performing products. Following this discussion, Rahul came to know that many of the shop owner's business connections were using MSG91 services and they were extremely happy with the support that MSG91 offered. It was a moment of pride for Rahul because he never thought that people from small towns like Seoni knew the brand MSG91 so well. In the course of this impromptu discussion, both the parties exchanged more stories, anecdotes and contact details.
While returning home, Rahul felt goosebumps when he thought about the impact of the brand he is part of. He realised that his entity had a purpose for both MSG91 and Walkover Technologies. He came back doubly motivated to work harder for a brand that is clearly touching lives. "Someday we will have the power to serve the whole world" he told himself.
Views: 26