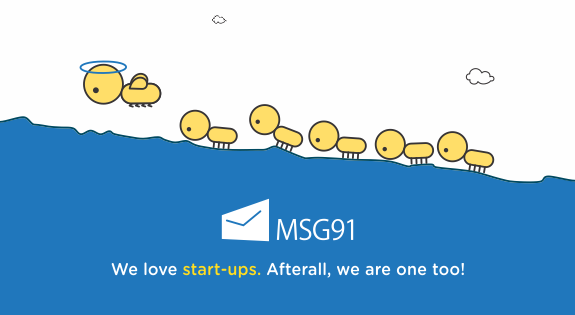 We love startups. After all, we are one too. And what better way to stay connected with the world's largest startup community than our own brand MSG91?  We practise what we sell.
Team MSG91 boasts of seamless communication because we use the exact same system to exchange messages that we provide to our clients. It's the ultimate test of the MSG91 solution. And being a startup, we have special affinity for fellow startups. Thus, in a bid to support Indian startups, MSG91 has recently launched the "MSG91 for Startups" offer.
What's in it for us?
We get to contribute to the startup community and hear good things about our beloved brand MSG91.
So what are we offering?
We offer upto 50,000 SMS/ email/ voice API credits per month for 6 months
Free for the use of OTP and transactional purpose
And what do we expect in return?
Just a little startup-buddy-ship. As a token of bonhomie, we'd like the startups to share the love of MSG91 on social! But that's that.
We know what it takes to be a startup. We know the struggles and hard work. When we started off, we were always looking for free services to cut our costs but mostly to dazzle our customers. It's time to give back. We wish to send out the 50K free SMS offer to empower the startups and make them realize the importance of consistent communication with their clients. We want that communication becomes your USP, not a barrier. And one of the most personalized and sure-shot ways to connect and dazzle your existing customers is the old school way – messaging. And boy, how you will benefit from these many SMSs. It's just a matter of your imagination.
Check how MSG91 clients dazzle their customers through transactional SMSs :
Every day is a good day: Do you remember the famous line from Winnie the Pooh? "What day is it? Today. Oh, it's a good day." Some of our clients see every day as an opportunity to remind their customers how important they are. They use MSG91 bulk messaging to send messages to their clients.
It's always better to spread the word in your herd first. Our clients know that the successful strategy to grow their business is to understand it within the organisation itself. Internal communication seems to solve it all! For example- Informing about any new project inside the circle or progress rate on every possible step of growing takes place through our SMS solutions.
For a business to succeed, the product needs to reach potential buyers. Unless your business is known in the community and has communication with your customers readily available, you have to use marketing strategies to create product or service awareness. Many of our clients use SMS marketing to promote their product and services.
Critical alerts play a vital role in today's technologically advancing world. Education sectors utilise our services via critical alerts by letting the guardians know the tidbits of their pupils. This way it's easier to keep them informed about the details of the reports, attendance, progress updates and everything else.
So, it doesn't matter if your startup is stepping in marketing, education or any other field, our solutions are available for you anytime, anywhere. Take a leaf out of our customers' books to know how they are using SMS in their industry.
We're making an offer you couldn't refuse. So don't let go! Today, you'll share your love on your social accounts because we're helping you grow and through this initiative, we hope that someday we'll have the honour of doing the same for you too.
Views: 96