All our direct resellers have shown immense faith in us over all these years. Their faith have been one prominent reason why we have grown so fast in last few years. So, as a token of accolade for their trust, we are closing direct reseller-ship. This will limit the amount of competition that they currently face.
We are closing direct-reseller program to let our existing resellers gain ground. Let's say, it's our gift for them for showing so much faith over all these years. All our existing resellers will always remain our direct partner to provide bulk SMS service through this panel.
And for all other interested parties, last week of January will be the last time to become our direct white-label reseller. This might be the last chance for them to enjoy completely white label services.
What 'not-our-resellers' will miss
Those who are not our reseller are already missing out on heaps of useful features. That too white label – your brand name, our services!
To make picture clear, here's an example – If someone has domain, then, our ready-to-use website template allows them to instantly start to resell or use our SMS. This too, white label. This followed by white label panel to make management of endless users easy. We also provide white label support. Your clients will never know that our support team is solving their problem on your behalf.
Making the panel better than ever
We are making changes to the design of our panel as well. What we are trying is to bring maximum 'doability' in minimum clicks.
The panel is going to get revamped. And in coming times, add-ons will be released to bring even more easiness. We're working to make APIs better. Also, users will be able to send SMS directly from excel and google sheet using our excel plugins and spreadsheet add-on. The panel will now be more colourful. We are really working hard in technology part as well.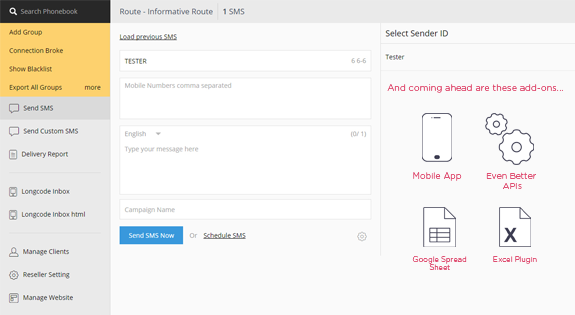 Why and how we started
We started our reseller program in 2010 and are ever since growing. We are, today, the fastest growing network of SMS resellers! Initially, our only vision was to provide even better services. We still believe that local vendors understand the supply chain better. And anyways, more the vendors, better the management. Better the management, even better the services.
The end
We are proud that our services got better after we started our reseller program. But, everything that comes into existence has to cease existing. That's why we are bound to limit direct reseller-ship so that our direct resellers may enjoy lesser competition in higher level of the reseller chain. Because, in the end, what makes us happy is seeing our clients happy.
Keep messaging.
Views: 109