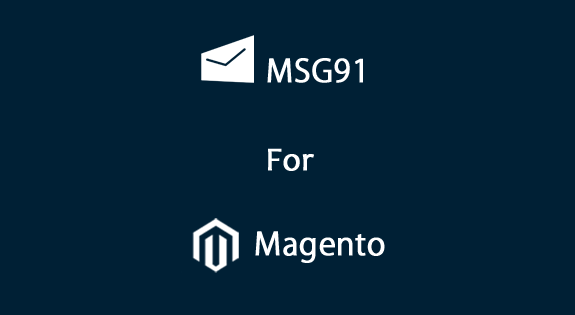 Did you know that the websites of world's top 10 brands including Samsung, Lenovo, Olympus, Ford and Nike are built on Magento? According to an Alexa Study report, Magento continues to be a popular e-commerce platform with 20% of all e-commerce shops online using it. If you are a leading online shopping store or want to be one, you are most likely in the same bus. This shows you want nothing less than the best shopping experience for your customers.
However, often technology or communication platform deters you. What if you could sent SMS notifications to your new, existing and potential customers right from a plugin built on your website? MSG91 – an International bulk messaging player, just created it for aggressive sellers like you. Read on to find out how:
MSG91 has recently launched a Magento Plugin that enables you send messages at all levels, at all times to your customers right from your website without switching to another tool or platform. All you need is your website and this plug-in. The newly introduced plug-in, called as MSG91 for magento is developed with the aim of notifying the users by an SMS after ordering any product. As mobile phones are the most widely used medium of communication today, and SMS delivers any critical information in the best possible way.
The purpose of MSG91 magento plug-in is to empower eCommerce players towards dazzling their customers conveniently and frequently.
How an ecommerce website can utilize this plugin?
MSG91 magento plugin will enable such businesses to improvise the client satisfaction level by informing the clients about their orders and their progress rates via SMS.
Say Hello! Every  time you get a new sign-up, you can give a friendly feel to the user via a simple welcome message.
SECURITY HACK. Naah! Well now your customer will be notified about the login information, password reset attempt etc. all on his mobile itself through SMS.
Let your customer surf through each and every step of the road. Inform them with each of the following steps:
Order confirmation.

Date and other details of the order.

Invoice of the product.

Shipment/order tracking details.

Delivery instructions.
Schedule your messages and get them delivered precisely whenever you wish to.
Inform your customers about the availability of their most wished products. We're sure they'll hop in as soon as they get the alert on their mobiles.
What's in it for an online buyer?
With this plugin, a shopper can skip the step of checking his mailbox timely to know about his online orders. It has got easier with an SMS.
From placing order to the final invoice of payment, an SMS for each and every step of the process.
Also, no need of keeping an eye on the product in the wishlist. A user will automatically be notified via an alert or notification SMS.
Finding log details was never so easy! Users can find information about all the logs under our logs and and custom notification log menu.
In fact, a user will be able to receive information in the all the situations like:
Subscribing/unsubscribing a newsletter.

Placing a tag for review purposes.

When a coupon is added.

When a product is out of stock.
All of this and much more with just one plugin… and that too FREE of cost. So what are you waiting for! Integrate MSG91 for magento and notify your customers and serve them the best.
Views: 111