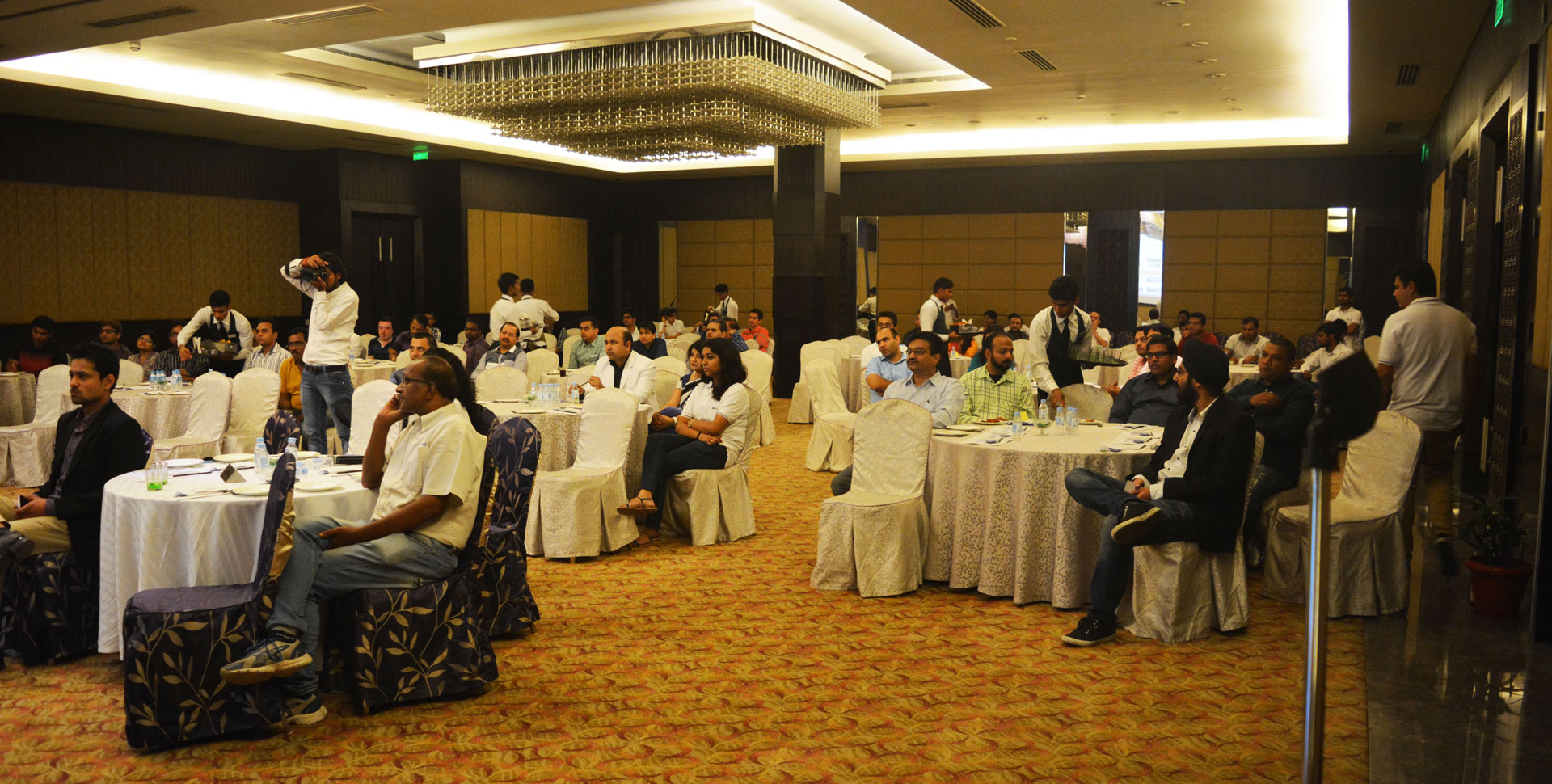 What could one possibly expect at a gathering intended to discuss a technical topic? Nerds, lectures and long lost attention! But MSG91 succeeded in drawing sufficient interest from the who's who of leading sectors in an enriching session on the 'Internet of Things' (IoT) on Saturday at the Radisson Blu hotel .
MSG91 Marketing Team led by Piyush Sharma initiated an education revolution of sorts on the future of technology known as IoT. As part of this campaign, the first conclave saw leaders of sectors like manufacturing, media, education, health, logistics, eCommerce, retail etc participating actively in a knowledge-enhancing session.
The warm-up
The evening began with a warm-up about the Internet of Things through fun questions thrown at the audience. MSG91 anchor Mukti Masih asked the audience to share either a childhood fantasy that came true through technology or answer a hypothetical question. In response to a question, an eminent entrepreneur shared that if he had a remote control, he would love to monitor his kid. While sharing about a childhood fantasy, educationist Sumit Maru said that his dream of knowing places beforehand had come true through several travel applications and aggregators.
IoT expert Narendra Saini dazzles the audience
Mr. Narendra K Saini, a widely known name in the IoT/M2M sector, began the session with a two- minute silence for late Dr. APJ Kalam. Through simple examples from day-to-day life, Saini enlightened the audience with useful information about IoT. He grabbed the attention of the crowd by demonstrating how IoT could benefit several sectors and make them more efficient. However, the session became all the more interesting when Saini started handling queries from several entrepreneurs one by one. He concluded with saying that the world would be a much better place if all the ideas combined and found one answer.
Followed by this session, MSG91's Founder and CEO of Walkover Technologies, Pushpendra Agrawal shared an interesting story about the necessity of text messaging in the world of IoT.
Comedian Angad Singh surprises
Serious discussions shifted to loud giggles when upcoming Stand-up Comedian Angad Singh Ranyal climbed up the stage. Known as Pirated Sardar among the comedy circles, Angad touched interesting aspects of Indians in a humourous way. His newfangled jokes made the throng go wild with guffaw. Relationships, Punjabi women, typicalities of Indian communities were some of the acts that made the people hold their bellies tight. A light-hearted session of fun-picked jokes made the evening even more mesmerising.
Views: 43