A comprehensive web hosting automation solution, the world's top brands are definitively integrated with WHMCS.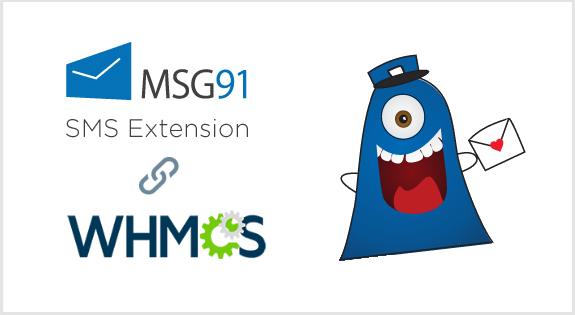 Being an all-in-one client management, billing & support solution for online businesses, you might want to consider this significant business automation tool if you wish to begin your e-commerce journey as WHMCS puts you in charge. And, if you are already using the popular WHMCS platform and are looking for ways to enhance the e-commerce experience for your existing and potential customers by keeping them updated then here's some good news for you.
Presenting the second MSG91 SMS plugin for WHMCS now compatible with WHMCS v7.4
Powerful yet versatile, the MSG91 WHMCS SMS plugin allows you to keep your customers informed by sending them an automated SMS at those business-critical points that add value to the customer experience fostering growth and customer relationship.
Designed with the purpose of keeping your customers notified, adding value to your customer relationship and allowing you to manage your online business and client management, billing and support functionality, the WHMCS SMS plugin is not only useful for the business owner but also aids the customers.
Keep your clients up-to-date via a simple SMS with the MSG91 WHMCS SMS plugin enhancing their satisfaction level by adding value to their e-commerce experiences.
Set up an automated SMS for:
New user sign-up
Two-factor authentication for mobile number verification
Invoice notifications
Payment reminder
Automated creation of services when an order is placed
Welcome a user, password change, upgrade, suspension or more
Promotional incentives
Links and attachments
Payment reminders
Hosting or reseller account creation
Product out of stock
Newsletter subscription
Service upgrade
Security hack attempts and more
The customer receives an SMS at every crucial point making things so much simpler.
Sign-up, order status, invoice generation, password change
2FA authentication
Instant alert on any suspicious activity in the account
Security hack attempts
Notification on payment status
Timely payment reminders
Scheduled maintenance updates
Install MSG91 WHMCS SMS Plugin now and give your customers the best e-commerce experience.
To configure and setup the MSG91 WHMCS SMS Plugin in your WHMCS platform click here.
Views: 352