Consider age-old advertising methods and their applications. You would have needed to use methods like hoardings, pamphlets, bill boards and other direct advertising modes and yet you could not be sure if your message has reached the ultimate customers or not.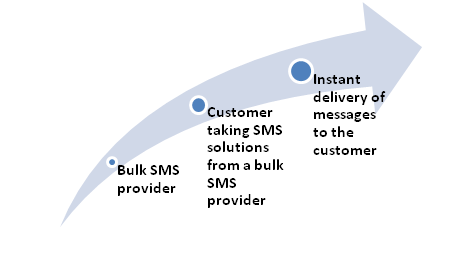 Now consider a new and unique way of marketing that is not only fast but also saves you from incurring huge expenses. With SMS marketing you will not have to use loud methods of advertising your products. All you are going to need is a small message revealing the necessary information about your product/services and a SMS solutions provider.
SMS marketing lets you reach your target audience by making use of the instant delivery feature and taking care of the timing aspect at the same time. As a marketer you don't have to worry about your message reaching the end users as was the case with old advertising methods where the publicity was done by using hoardings, pamphlets, etc, which the people easily ignored.
Reasons due to which there will be no faffing about your message reaching the ultimate users with SMS marketing are:
a)      Instant delivery
One of the major reasons why you don't have to complain about your message reaching the customers is the instant delivery feature due to which customers will have the product information the moment they switch on their mobile phones.
b)      Targeted marketing
Due to targeted marketing only those people will get to know about your product who might actually be interested in product purchase rather than flooding people with messages who in fact are not interested in the product in the first place.
c)       Two-way communication
SMS marketing enables two-way communication by making use of short-code and long-code message service. This way, people would be engaged into a conversation with the marketer and can raise queries related to any topic.
d)      Delivery of information in crisp and convenient language
This helps in making your message reach the end audience without any complexities, that too at their comfort and at a time convenient for them. People would prefer reading the message since it discloses the necessary information related to the product in short yet descriptive form.
e)      Taking care of the timing aspect
SMS marketing does not simply impose the marketing campaign on the user. It takes care of the timing aspect and aspires to deliver the messages at a time convenient for the customers.
Therefore, with SMS marketing, the potential customers can be made aware about the product which further helps in product promotion and makes the product/service more reachable.
Views: 18