SMS solutions indeed offer a good marketing path to the businesses. But blindly messaging your potential customers about the product will only deteriorate the scene. For that purpose, it's good if the marketer follows some essential and effective tips of SMS marketing.
1) Always send messages to only those customers who have opted-in for messaging services
It is a wrong notion that bulk SMS attracts customers to products/services. The truth is, right bulk messages, sent at a right time, to a right audience will catch the attention of customers to your products/services.
2) Focus on targeted message sending
Not all bulk SMS are meant for all people. Keeping in mind this rule, send bulk SMS only to your target audience who will show interest in your product, rather than sending it to people who may willingly ignore your messages.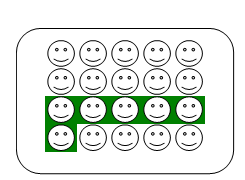 3) Mind the length of the message
Nobody likes long speeches and orations giving away the details of the product. Hence, for SMS marketing to be effective, mind the length of the message and try to give away only essential details.
4) Respect customers opting out of bulk messaging service
With the number of spam messages and emails increasing, privacy has become an issue for customers. Therefore, as a marketer, you should not only provide your customers opt-out facility, but you should also respect those opting-out of your messaging campaign.
5) Crisp details  about the product
The magnificence of bulk SMS is that you can (have to) convey your information in as crisp and concise way as possible. Since there is already a limit of 160 characters imposed on text messages, you can convey your information in simplest manner possible.

6) Pay attention to who you are integrating with
As a marketer, you should pay utmost attention to who you are integrating your SMS solutions with, because if integration is done with a wrong or complicated software provider, then people may not favor your SMS services.
7) Personalized message
Always ensure that bulk messages are being sent to the users by addressing them by their names. Random promotional messages sent to random people may or may not be preferred. For example: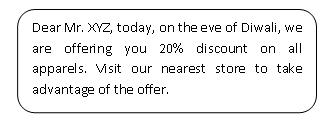 8) What's-in-there-for-me?
Keep in mind a simple fact that most promotional messages will be read only when there is something in store for the customer reading the message, because the first thought that strikes a customer's mind on opening a promotional message is, what's-in-there-for-me?
Views: 109