Did you know the first ever SMS was sent over the Vodafone GSM network in the United Kingdom on 3 December 1992 using a personal computer to an Orbitel 901 handset? The text of the message was "Merry Christmas".
It's 2020, almost 3 decades since the first exchange of text and we can surely say this mode of communication has never been so stronger.
SMS is the preferred mode of communication not only by industries across but even the customers. We are so used to receiving an SMS and more importantly opening and reading it the moment it hits our mobile inbox.
SMS can be broadly categorized into 2 types:
Promotional SMS
There's another kind of SMS – used for sharing all the sensitive information and more importantly for user verification via 2 FA. We are talking about a one-time password or as it is usually called an OTP.

Most people still think OTP SMS is the same as Transactional SMS but let us clear it once again, OTP SMS are technically different than transactional SMS.
Transactional SMS are messages sent to your customer to pass on information necessary for using your product or service.
For example:
Rs. xxx has been deducted from your bank account number ending in 3456.
Dear Z, your order has been shipped and will reach you within 3 days.
OTP is an automatically generated numeric string of characters used to authenticate and verify users before a transaction or a session in an app/website. It is used by businesses to ensure a secure user flow.
For example:
Your OTP is 123456.
123456 is your OTP. Do not share your OTP for security reasons.
How Transactional SMS are technically different from OTP SMS?
There are a few basic differences and technicalities that separate Transactional SMS from OTPs.
Let's take a look at a few:
1. High Priority Route
One-time passwords usually authenticate the user through their mobile number and are time-sensitive. It is reason enough to process OTP through the high priority route.
2. Validation
Since the user needs to be validated the OTP does not pass through the process of validation as a transactional SMS does. It is via the OTP SMS that the user is validated.
3. Content
Transactional SMS are informative messages that a user opts-in to receive and contains content related to the opted-in company.
The content can range from
order placement to delivery;

from feedback to referral;

from an invitation to offers and more.
The content sent in an OTP is restricted to a limited set of numeric characters that basically is one step of 2-factor authentication.
4. No Number Bar
Sending promotional SMS is limited to opted-in numbers while transactional SMS can be sent even on NDNC numbers, but when it comes to OTP SMS it can be sent on blocked numbers too.
5. Voice Back Up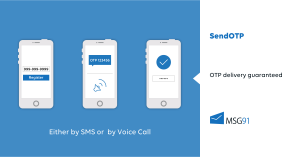 SendOTP, MSG91s dedicated platform for sending OTP comes with an extra set of guaranteed delivery. The OTP SMS comes with a voice call backup so if ever (99.99% it doesn't) an OTP fails the message is delivered via a voice call at no extra cost.
6. Minimal Response Time
You send, we deliver! It takes a fraction of a second to process an OTP. Even a transactional SMS is processed within a few seconds but for an OTP it takes milliseconds.
Of course, there's a reason for it. The validation process of a mobile number increases the response time for a transactional SMS whereas an OTP itself is sent to validate the number thus reducing the step.
7. Server Downtime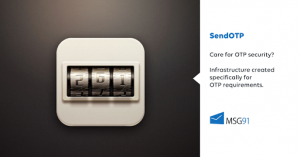 We all have downtimes and so do our servers (a rare occasion, but it happens!).
Our algorithms are designed in such way that they give preference to OTP (we're not biased; we just don't like our customer getting stressed so OTP goes first).
At MSG91 we treat them all equal – Transactional, Promotional, OTP and try our level best to never disappoint our customers irrespective of the type of SMS they send. But yes, one thing is certain that your OTP will never fail; come what may!
Views: 530