End of February always brings an ooze of summer as the biggest event in Mobile world sets in. Lakhs of people, brands, ideas and innovations set feet into this futuristic event, where tech freaks get a dose of the latest business world gossips and a shakeup of what technologies are shaping the future of business.
The MSG91 team just got back to their usual routine after a fantastic and exhausting week of partnering with great companies, sharing the passion for technology, making new friends and partying hard at the MWC Barcelona 2019 – 5 exciting days of mobility and meaning, plus 5 more days of exploring one of the largest metropolis on the Mediterranean Sea.
MWC19 saw nearly 115,000 people attending the awaited doozy event. It was one of the gigantic starts of the year taking place at Spain's eastern Mediterranean coast around a theme "Intelligent Connectivity".
If you are somebody who looks up to this event and somehow missed it this time, here are some bits to fill up your dose of the Tech news right from Barcelona.
About MWC Mobile Phones! (since it's MOBILE world congress)
Some of the brands we saw actively launching all new stuff at MWC in Barcelona were Samsung, LG, Sony, Microsoft, Huawei, OnePlus, Oppo and many others in the league.
While Samsung didn't showcase its flagship 10th generation fabled 'S' series Galaxy line at the event, it had its Galaxy Fold on display. LG's had its V50 ThinQ at the display and Huawei took this opportunity to draw attention towards its folding smartphones.
Progressing at the AI and IoT age, Nokia rocked the show with the Nokia 9 PureView with the five 12-megapixel camera sensors on the rear. Two sensors were to capture the RGB lights while the other three to pull in the black and white data.
Sony, Xiaomi and ZTE also released new devices, but MWC19 didn't feel like a device-oriented show at all.
Since MWC is certainly not just a place where mobile phones are introduced, the trade show also hosts some of the prominent businesses and stakeholders discussing what is to come and what is shaping the course of business.
As we weren't looking for mobile phones specifically, I'll limit it to this much and move on to other stuff that interested us more.
5G is finally here!
5G is the future of mobile networks and certainly a very bright one. Users will be able to enjoy advanced cloud gaming, download an entire movie in minutes and have gigabit-per-second transfer speeds.
Chipmakers Qualcomm and Intel both made their entire displays about 5G. Qualcomm announced the latest Snapdragon X55 5G modem even ahead of the MWC19. The company announced that the 5G phones using Snapdragon 855 processor and X50 and X55 modems will give users a day's worth battery, despite the multi-gigabit download speeds.
Qualcomm also announced that they will bring the 5G laptops partnering with Lenovo by this time next year.
While the driving force for 5G development is not just speed but the network capacity. Billions of connected devices already exist and with speeds getting better, IoT is catching better pace.
The AI Talk
AI is just not limited to data-driven giants like Amazon and Google. It's taken many turns and shapes. Machine Learning is the thing that businesses are not just talking about but implementing. At MWC Barcelona, almost every exhibitor had some or the other AI driven technology to showcase. What caught our eye was Oral-B which was showcasing "Genius X with Artificial Intelligence" toothbrush. No kidding. Kaspersky Lab was another brand that took an early entry into using Machine Learning to fight Malware.
The show stopper in wearables category was Microsoft's next-generation HoloLens (HL2), which was launched ahead of the show and was found at the display during the event.
The HoloLens2 is sleeker, comfortable, more powerful than earlier iterations. Its wide field of view is now allowing more immersive mixed reality experiences. The headset truly reflects what the future of AR beholds.
PTC and Pearson also had demos, and the wearables impressed everyone who could possibly attend. PTC's Jim Hepplemann explained in the wearables context that "the world is 3D, people think in 3D". He also mentioned that his team could receive 3D content and interactions before making the equipment live.
IoT and Beyond
5G and connected sensor devices ruled the show. Several supposedly 5G devices were launched, connected devices were discussed and intelligent network management solutions were demonstrated.
MWC19 made clear that 5G is set to bring rise to the concept of connected devices, combinations of software-defined networking (SDN), network function virtualization (NFV) and various traditional technology rollout scenarios.
The convergence of LAN, WAN, and WWAN promise is to bring intelligence to connectivity.
Looking at the CMO's perspectives it's no secret that 5G, AI and IoT have set foot in. From a consumers perspective, prices and size of devices may be on a higher side. But MWC19 has set a mark for higher ROI in the connected devices field delivering closed-loop automation.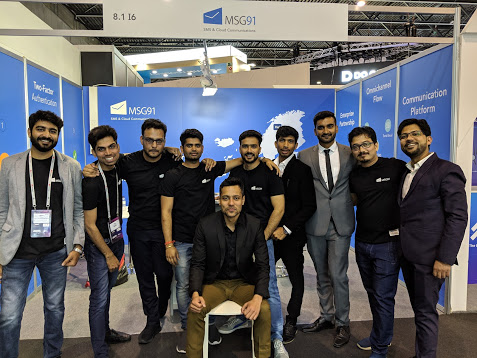 MSG91 Team is home with items crossed from bucket lists, shopping bags, loads of memories and lots of learning. Certainly not possible to share all experiences (But guys, what happens in Barcelona stays in Barcelona!) but we will still try sharing the learnings we had at this mega event.
So here goes:
# MWC – Intelligent Connectivity
MWC is the place to be if you:
Wish to meet and partner with Digital innovation Leaders

Strategize, discuss & plan for the present and Future Tech

Raise the bar for your Brand's perception
The next time we are going to MWC, 3 things we will do differently:
Stay mobile – Even though we did a lot of meetings, think we spent more time staying on the stall. Next time, we're going out and having a blast networking around.

Reach a day or two earlier – No jet lag, explore the event area, feel the Buzz and get Charged Up, So at the event, all you have is to Rock.

Create more curiosity – We think we could have done so much more around our product to make it stand out
# 5G, OmniChannel, RCS – The world is shifting to 2.0
Technology is ever evolving. We too are doing our bit to keep up with artificial intelligence, Rich Communication Services and omnichannel services, but we realized –
It is great if you stay on top of technology, but service comes first. Whatever you offer to your users, no one else should be able to beat that.
# Same audience, different products – Build products that your customers need
Doesn't matter if you are from a different industry, if you know what your customers need, you can try your hand to other industries as well.
When we walked into the Caterpillar stall, we walked over mobile phones. Those who know Cat know they are the world's leading construction and mining equipment manufacturers then why mobile phones, that too rugged?
Any guesses?
Construction and mobile phones are a deadly combination. In this business, phones are constantly being dropped and long days require the best battery life.
So what did Cat do – came up with a solution – Catphones
Your business might not be the right fit for industry change, but it makes a difference if one is aware and MWC as a platform allows exposure to different approaches towards success.
# Come prepared – No waste of time & enhanced productivity
It was a delight to see that –
Everyone had a clear agenda for the meetings and they had already done their back office preparations.

Also, no discussions when you are socializing. You have to be in the work mode when talking about work.

The meeting time was fixed and so were the discussion agendas. Result – enhanced productivity.
# Take siesta seriously – Work hard, party harder
Take a nap, chill, have a drink, socialize, catch up with friends, dance – MWC takes its siesta time seriously and so did we. Also, Barcelona is a beautiful city!
When we're looking back at MWC19, apart from all that we could do or not, one thing comes certain – The window is short, live it up.
We only live once. Let's be grateful for this beautiful opportunity and grab it by all arms!
And as they say the Spanish way, Adios Amigos.
Special thanks to Pallavi Jaisinghani for coordinating and compiling the piece.
Views: 316