Fast, efficient, and easy: Why you should send SMS online
The advancement in technology has managed to provide us with new tools and methods to communicate, but today these innovative and endless channels have left businesses overwhelmed, and they are unsure where to begin. This is where mobile SMS online comes in. Once companies choose to SMS send via the internet, they will witness efficient, easy, and cost-effective methods of communication that will leave an impression on the customer's minds. When you send SMS online you are retaining a positive impression of your business to the consumers, consistently.
Top reasons you should opt for sending SMS by internet:
Choosing a fast SMS service will result in fast responses, specifically eight times faster than email. It has a 98 percent open rate and a 45 percent response rate, and approximately ninety percent of SMS text messages are opened within ninety seconds.
Online mobile SMS has become a universal, affordable and acceptable way for businesses to communicate with customers
Companies can take advantage of SMS technology by automating everything according to their needs. SMSes over the web are highly effective and quick. With this brands now have access to one more communication channel, besides emailing customers and phone calls. You can send SMS via the internet by connecting to a reliable messaging platform like MSG91 that will provide you with services that allow bulk texting from your device. It should also offer powerful solutions for any amount of communication problems.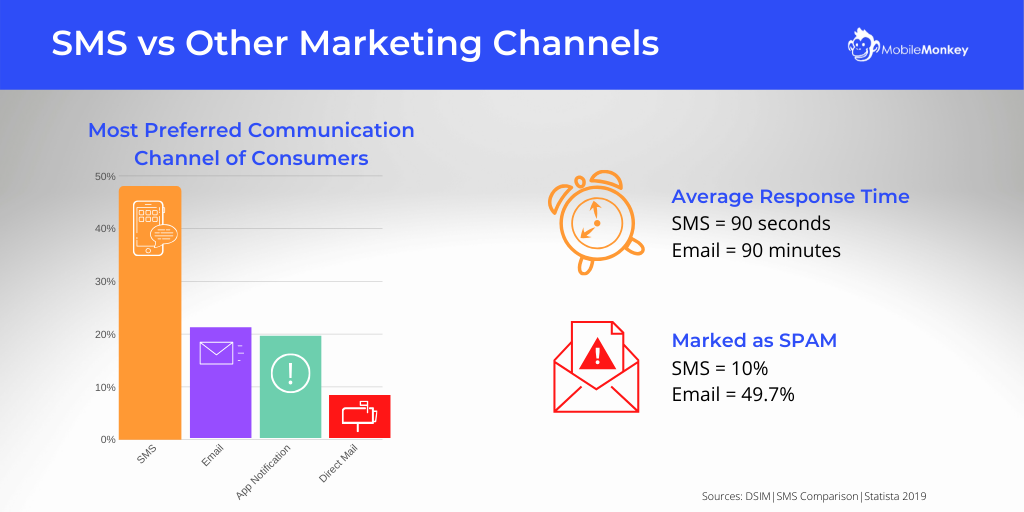 You must choose an SMS platform that will allow you to deliver texts that you can send anywhere online, is self-service, and can be accessed at any time.
The advantages of sending SMS online from MSG91 SMS portal:
When you sign up with an SMS provider, you receive the ability to send thousands of text messages online; as long as you have the receiver's phone number. Here some more benefits that you can avail once you send SMS via the internet:

Efficient:
You have the option of scheduling your messages or sending them instantly. This feature is quite useful if you plan on sending bulk SMS texts or if you are developing an SMS marketing campaign. This feature will allow you to broadcast your message to a thousand recipients, simultaneously

Easy to use:
One of the best benefits of fast SMS via the internet is that customers can send messages anywhere and at any time. All you need is a stable internet connection. You can also automate SMS and send targeted messages based on seasonalities.
Fits the purpose:
Many businesses are gravitating to send SMS online. This is because it delivers real-time insights to the managers, allows you to check messages related to any marketing campaigns and see if they are sent using delivery receipts, along with viewing a detailed history of the sent and received messages that will confirm optimal ROI for your business.
Affordable and cost-effective:
Mobile SMS online through a reputed provider like MSG91 is affordable and can be cost-effective to the business. Also, it saves more time than sending them directly from your mobile phone.
Various methods to send SMS online by using an SMS service:
There are many ways to send an SMS Online, the best platform depends on the needs of your business and the text application. Some of the popular methods to send SMS via the internet are:

Choosing MSG91 to send SMS online:

There are many SMS service providers in the market, and as mentioned before, the choices can be overwhelming. You need to select an SMS service provider who will meet your business needs with relevant features and affordable packages. Here is how MSG91 meets its client's requirements and stays one step ahead of its competition:
Dedicated customer service:
Apart from fast SMS services, we at MSG91 believe that the client is king and our core value is to place them at the center of all our functions. Right from sales, analytics, to support, our team works tirelessly to provide the best experience for the customers.
Unmatched experience and professional staff:
MSG91's SMS API solutions have met the needs of over 40,000 customers, across the world. Our platform houses businesses of all sizes, whether large corporations or small scale companies, we provide communication services to all.
Reliable and dependable:
We have invested time, money, and energy to build our company. All our networks are constantly manned and supported by a sophisticated monitoring system. This system acts as a heartbeat and it continuously reroutes messages if the pathway is interrupted.
Innovative:
We at MSG91 pride ourselves on delivering the latest in SMS technology. We offer leading, cutting edge features like MMS, RCS, and landing pages designed for mobiles.
MSG91 looks at the future and how it can continue to adapt and meet the dynamic communication needs of the world. Reach out to us to know more about how our solutions can help you supercharge your business.