The next-gen text messaging protocol, RCS, is set to offer a real change in the messaging experiences for consumers. having a significant impact on texting, image and GIF sharing. With an open, consistent and globally interoperable messaging service, many carriers are planning an upgrade to RCS from SMS.
What is Rich Communication Service?
Rich Communication Services, also known as RCS, is the next generation in messaging technology. RCS will include prominent features like high-resolution image and video sharing, payments, file sharing, location sharing (in real-time), video calls, and so on. All these features will be delivered through your device's default messaging application without the need for any external messaging app like WhatsApp.

How does RCS work?
Now that you know what a rich communication chat service is, it's time to understand how it works. RCS is part of the protocol that is termed by carriers, as an Advanced Messaging standard. It is a significant improvement over the humble text messaging functionality that is available, by default, in most smartphones.
If you want to know what a rich communication service message is and how it is implemented, then think of various apps you have come across in the past that have read receipts, typing indicators, and advanced methods of sharing media on a large scale.
RCS functions within the native messaging app on your phone, you don't have to download a third-party application, there is no need to set up user accounts, invite friends, or sign in to get started. But, if you want to send/receive RCS messages, then everyone will have to be on the same messaging application and a network that supports RCS enabled phones, i.e., Android to Android for example.
If you don't use a device that is RCS enabled, then your messages will fall back and default to regular SMS or MMS formats.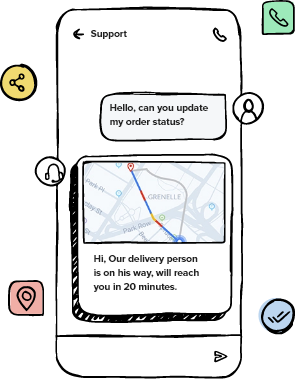 SMS vs MMS vs RCS: The key differences
SMS: Short Message Service is a texting technology that allows you to send messages over a cellular network. You don't need mobile data or Wi-Fi to send or receive messages. This is a convenient option when you have limited or no internet connection.
MMS: MMS utilizes the cellular network to send and receive messages, just like SMS. However, what sets MMS apart is that it can transmit multimedia content. When using MMS, you can send images, audio files, contact cards, and so on, along with your text messages. You can make use of the phone's default messaging application to send and receive MMS texts.
RCS: RCS converts the native texting app into a live chat platform similar to how iMessage works between two iPhones. RCS is being heavily pushed by Google to enhance its built-in messaging application on Android phones. However, RCS messaging will require an active internet connection to transmit messages. RCS will be beneficial for businesses, especially if they want to send tickets, product delivery alerts, boarding passes, and payment links.

Here are the key differences that set RCS apart from SMS:
Around in some form or other since 2007 when it was first proposed, RCS is the iteration of text messaging technology. The original standards over text messaging offer a number of enhancements including
8,000 character/message
Supports read receipts and displays when the other person is typing
Web-based chat and cross-platform message syncing
Uses WiFi and mobile data to send messages
Group chat
Video and content sharing
Social presence information
Native audio messaging
IP voice and video call
End-to-end message encryption
SMS fallback
These features might look like nothing new as they are common to many popular messaging apps, but they're a massive upgrade over SMS.

The adoption of the services wasn't really taking off by phone manufacturers, mobile carriers and developers due to the required update implementation of network and software. But things are changing for RCS since Google announced the launch of a mobile industry initiative to accelerate the availability of rich communication services.

A service provider, phone manufacturer and the arbiter of the Android OS, Google is pushing every carrier to upgrade to rich communication services. But its version of rich messaging service differs from the original RCS.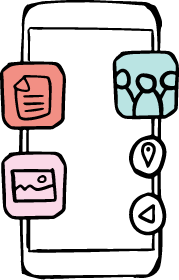 The benefits of Rich Communication Services
For marketers:
Making use of a highly targeted communication method that aims at customers who will take action
Keeping customers informed and happy with real-time notifications like purchase receipt, offers and thus quality customer service
RCS will help you communicate with customers without delay

For consumers:
RCS can help people send large, high-quality images, and they will have access to a much broader range of emojis /stickers to express themselves better
You can stream audio and video clips
Better group chat experience without the need for a third-party app
You can utilize the number of post-call and in-call features
Google is working to take the standard rich communication services features further.

Trying to get into its anvil live trip updates, boarding passes and even the ease of blocking your seat on the flight — all from within the messaging app. Google's push has finally come to shove. 55 operators, 11OEMs and 2 OS providers came on board to incorporate RCS support.

As more devices and service providers join Google's early access programme we can expect graduating from SMS to RCS in 2020.

"Messaging holds a central place in our lives, whether it's coordinating a meet-up, sharing photos with friends, or sending thoughts to a loved one. It marks an important step forward in bringing a better messaging experience for Android users everywhere. And, we're thrilled to collaborate with our partners across the industry to make this happen." Nick Fox, Vice President of Communications Products at Google.
How to Use

To send/receive RCS messages, all conversing participants must use -

1. Rich Communication Services-supported mobile device
2. Rich Communication Services-supported network
3. Same Chat/Universal profile-based texting app

If any one of these is missing, the message would be converted to an SMS.

iOS on RCS

Although iMessage includes many of the features offered by RCS they can only be used while texting between Apple devices. iOS currently does not support RCS but has shown interest in the future RCS support.

Infinite Possibilities For Rich Communication Services

RCS promises to live up to its name by bringing a rich new level of communication. And, 2020 should see India among a handful of nations graduating to the new multimedia avatar of the basic SMS.

Conclusion

RCS has immense untapped potential that can enrich and empower the lives of business owners and consumers. At MSG91, we can help you engage customers better with our RCS services. Reach out to us to know more.