Bulk SMS is a widely used communication medium to reach a wider audience by various businesses. For scaling the communication and make its maximum impact, to the behest of business operations, bulk SMS is one of the most viable options omnipresent in the market.
With a plethora of Bulk SMS marketing services available in the market, it is important to choose the best bulk SMS service provider to avail the maximum benefits out of it. Choosing the best bulk SMS service could be a tricky task given the scores of options already present in the market.
By making apt diligent comparisons based on different aspects, choosing the right bulk SMS provider with good online SMS service would become a lot easier. Plivo and MSG91 are among the top league of best bulk SMS service provider.
Plivo vs MSG91: Comparing which is a better Bulk SMS Company
Let us compare the two bulk SMS service providers based on different aspects such as features and price offered:

Pricing
An important aspect of availing any service is the price that the end user has to pay it. Businesses have always been looking for best bulk SMS provider which could provide online bulk SMS service without burning a hole in their pockets. This makes them look for cheap bulk SMS service which provides them overall well-rounded communication solutions for their business.
Plivo
Plivo provides its bulk SMS service in India at a price of $0.0070 i.e. Rs.0.51 (based on the current USD to INR conversion rates of 1 USD = Rs. 73.48) per SMS credit. This price is slightly on a higher side if you are looking for cheap bulk SMS service.
MSG91
MSG91 is reasonably priced, with one of the best bulk SMS services, offering bulk SMS at a price of Rs. 0.25 (up to 10k SMS credits), Rs. 0.20 (for 10k to 25k SMS credits) and Rs. 0.18 (for 25k SMS credits onwards). This price is much affordable and one of the most effective prices for which one could buy the best bulk SMS service.
Global Presence
Presence in the global market is very important for a bulk SMS service provider to be able to cater to businesses across the world. Any business who is looking for a good SMS service provider ensures a good global presence of the SMS service provider.
Plivo
Plivo is an SMS service provider which has a wide global presence with prominence in the US. This makes it a desirable bulk SMS provider for the businesses which are looking for enhanced global exposure.
MSG91
MSG91 is one of the best bulk SMS service provider in India, which is also emerging its presence in the global market. Currently, MSG91 has a strong global reach catering bulk SMS in over 90 countries across the world.
Presence in the Indian Market
In order to be the best bulk SMS provider in India, it is important to have a strong presence in the Indian market. India-based businesses always look for the SMS service providers which are omnipresent in the Indian market to ensure better connectivity.
Plivo
Plivo being a US-based SMS service provider is emerging in the Indian market with time. Currently, Plivo is operating in India from its Bangalore office.
MSG91
MSG91 is headquartered in Indore, and handles all its operations from different locations in India, making it an omnipresent bulk SMS provider in India. This is an added advantage for the businesses who look for a bulk SMS provider company which has a sound knowledge of the Indian market and has a good presence.
Special offers for Startups, NGOs and Non-Profit Organisations
Giving back to the society in some or the other form is the best service one can do to the community. Startups, Non-Profit Organisations, and NGOs often use bulk SMS service for their communication. Due to their less revenue generation, they often seek for cheapest bulk SMS service provider which could fit in their budget and provide them with the best bulk SMS service.
Plivo
Plivo has standard rates applied to all the SMS credits purchase and the same goes with the Startups, Non-profit organisations and NGOs. This might not suit their budget, as their budget is often low as compared to full-fledged businesses.
MSG91
MSG91 as a part of their community service offers special discounted rates on SMS credits to Startups, Non-profit organisations and NGOs. This would help these organisations to maintain an efficient communication channel via bulk SMS at the same time it suits their requirements and budget.
SMS in Regional Languages
India is a linguistically diverse country, has a variety of regional languages in which the people communicate. Sending SMS in English might not be as accessible to the native languages speaking population. Even as the Google KPMG study suggests the Indian native languages are preferred over English for communication by the people. Thereby, sending bulk SMS in regional languages will create a larger impact on the target audience.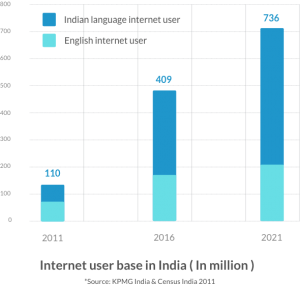 Plivo
Plivo offers bulk SMS service, even in Unicode to cater to the audience in non-English languages. Due to its prominent international presence, it caters SMS in many global non-English languages but is unable to provide SMS in Indian regional languages. This is a let down for local business which aims to target their audience in their native languages.
MSG91
MSG91 offers bulk SMS service, in 18 regional languages, with expert translation. Now, local businesses could send bulk SMS in their user's native languages based on their demographics. This way MSG91 is the best bulk SMS provider in India especially when it comes to regional SMS.
Practices for better SMS delivery rates
For a bulk SMS sender, it is important to ensure that the bulk SMS which are sent, have a good delivery rate. That is why bulk SMS service providers ensure a better success rate of delivery by following certain practices to the behest of their users.
Plivo
Plivo ensures a better delivery rate of bulk SMS by the practices of number pooling and local match. Herein the numbers are pooled in groups to be able to send more bulk SMS in lesser time.
MSG91
MSG91 ensures a higher delivery rate of bulk SMS with its two-fold fallback mechanism where the SMS get delivered even when the servers fail for some reason. Also, the retry algorithm ensures that the SMS is delivered with other networks even if it gets failed for one network. This makes MSG91 the best bulk SMS provider, with a very low failure rate.
The Bottom line
With the above, a detailed comparison between the two bulk SMS providers: Plivo vs MSG91, it would be easier for you to determine which SMS service provider suits your needs in a better way. As both Plivo and MSG91 are the top league bulk SMS service providers, having to choose any one of them as per your requirements will anyway be good for your business communication.
Views: 114