How to create a Segment in Segmento
You can create a segment in segmento that will filter users based on the attribute values. You can click on the phone book for which you want to create a segment. Once all the contacts of the phonebook are visible you can refer to the below-mentioned steps in order to create a segment:
​

Step 1: Click on the Add filter button on the top.
​

Step 2: Choose the attribute and give the condition on which you wish to filter with its value and click on the Apply button. Use the + icon to add more attribute conditions and the cross icon to remove a condition. The users matching the condition will be visible. 
​

​If you wish to save that segment for the future, click on the three dots beside the Apply button and select the Save filter option. Please give it a name and click on the Save button.
​

​

How to Launch a campaign
You can either Trigger or Launch the created campaign.
1) Trigger
 If more contacts are added while running any segment, more credits will be deducted.
a. When you save a segment and trigger a campaign, you will see the Ignore time option. It means that if the contact falls back in this segment again in the near future within this timeframe after getting moved out, the campaign will not run for it.
b. Select a campaign from the list of created campaigns in the MSG91 account and click on the Next button.
c. Select the To field & Variable values that need to be mapped and click on Send button.
2) Launch now
a. When you save a segment and click on launch now from the launch campaign option, a pop-up will appear that will ask you to select a campaign. Click on the Next> button.
b.  Select the Phonebook and saved Segment from the dropdown on which you wish to send the campaign. Map the contact details & template variables. Click on Launch.
​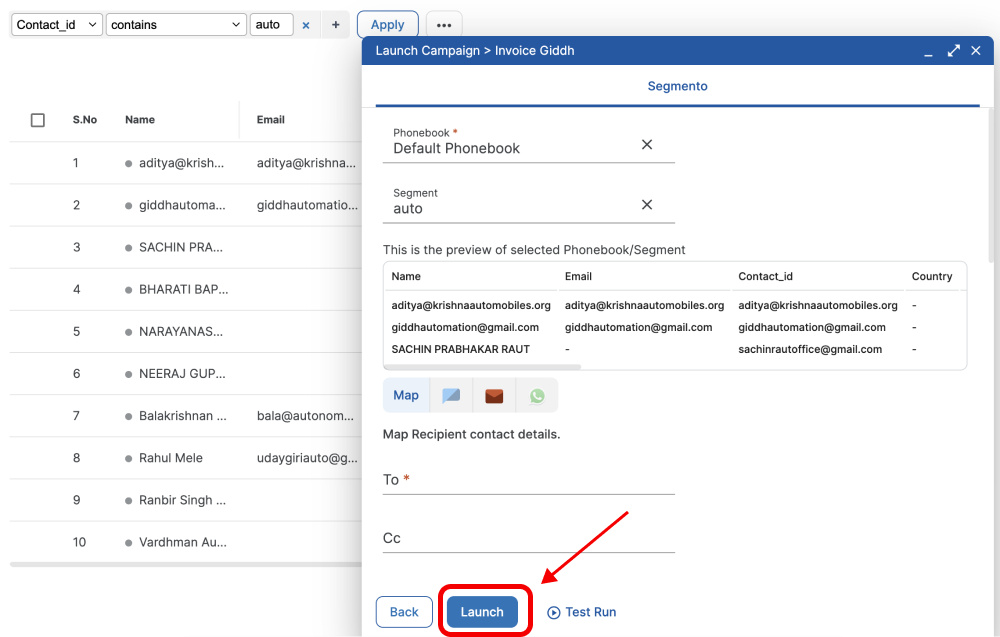 Note: You can also perform a Test Run on any of the mobile numbers to see if the message is delivering properly.
​

​

​

​

---