What is Campaign and how to use it
By creating a single flow in the Campaign you can communicate using different communication channels such as SMS, Email, WhatsApp, Voice, and RCS, and by adding a filter (condition/country) you can send the message to the targeted end-user as well.
How to create a campaign?
1. Login into the MSG91 panel and click on the Campaign section.

2. Click on New Campaign. Enter the Campaign name & Save it.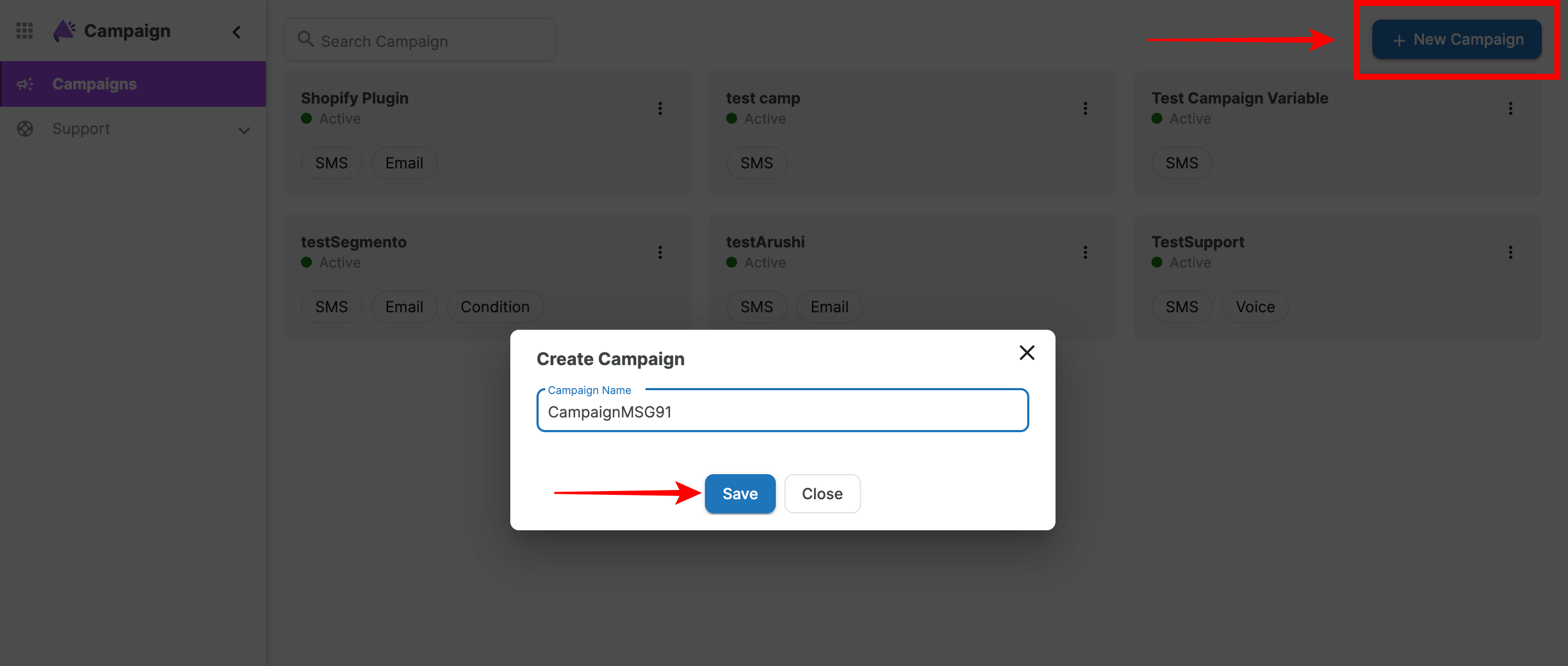 3. The following window will get opened and on the right-hand side, you can see different communication channels such as SMS, Email, WhatsApp, Voice, and RCS along with the Filters of Countries, Delay, Frequency & A/B Testing. You can Drag & Drop to add the required Node to the desired corner of the screen.

4. Drag an option from the Library as per your requirement for creating the flow in the campaign, for example, we have dragged the node "SMS".
Drag the pin from 'Start' and connect it to the Node that we have added i.e. SMS.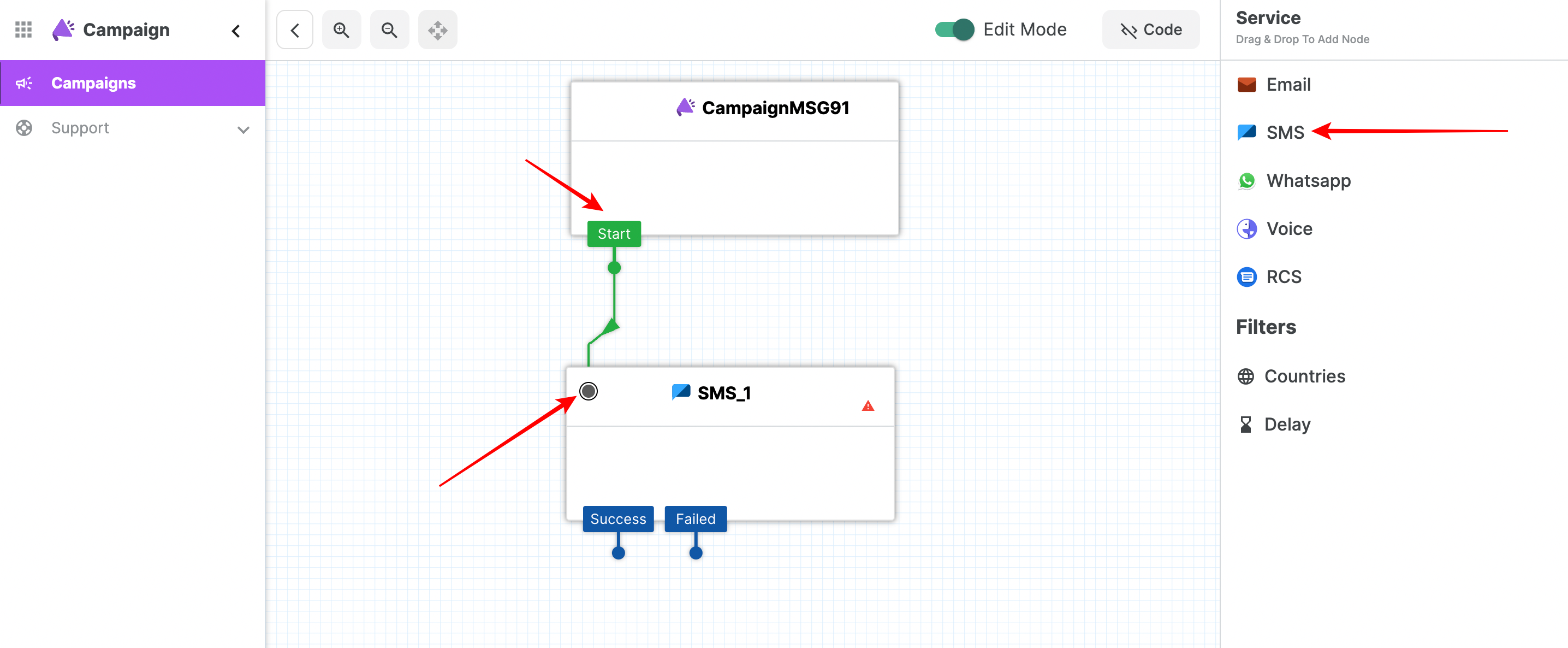 5. After this, click on the SMS Flow Node, and on the right side, you will get the option where you can select the template/flow & select the SMS type from the dropdown that is created under the "One API" Section &.
​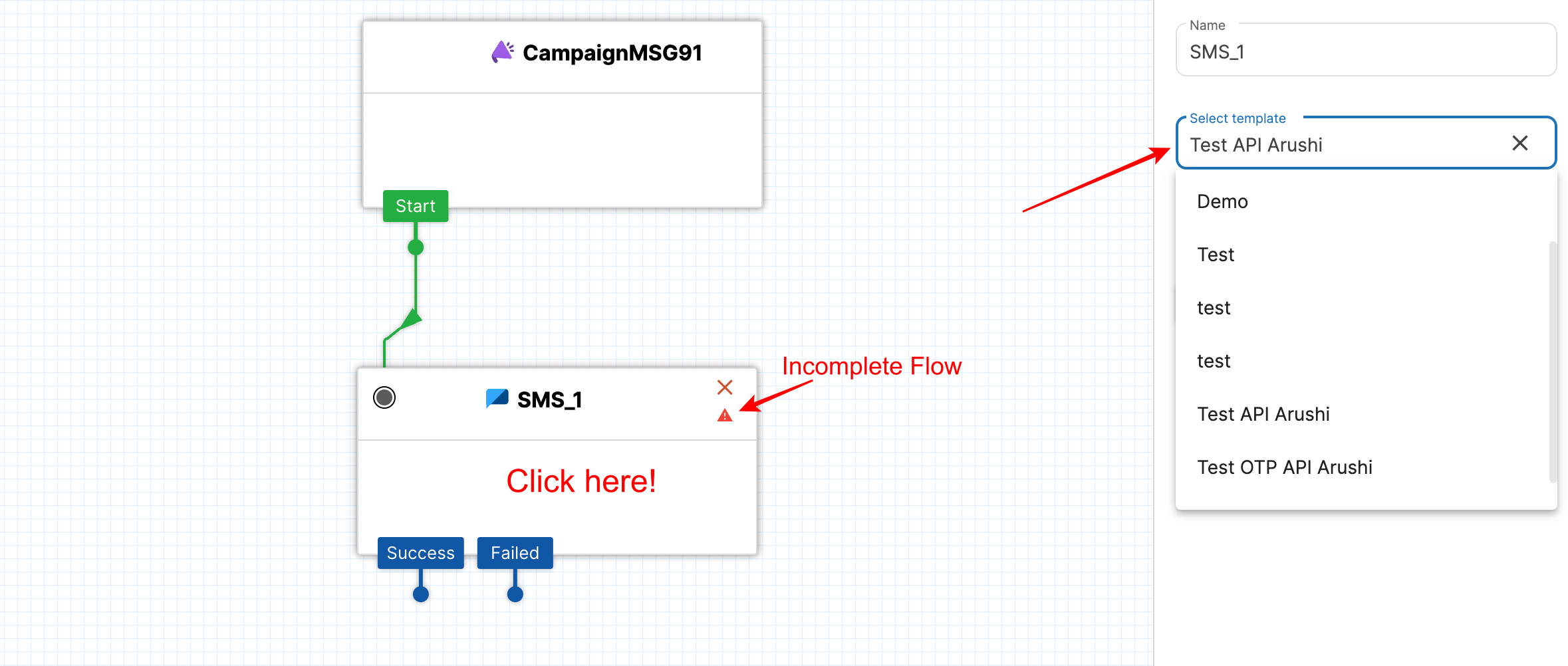 Note: If you will not add any details under SMS Flow, it will be shown as "Incomplete" with an exclamation mark.
6. Click on save and the node will be updated and you would be able to see the change on the screen itself.
7.  Similarly, you can use other communication channels such as SMS, email, Whatsapp or Voice.
Note: It will also help you in the cost-cutting of any campaign. 
For eg: if on the first go, the SMS gets failed on any number instead of sending the SMS again, you can trigger an Email.
How to run a campaign?
-> In order to use the campaign, you can use the Segmento feature or Campaign API.
From Segmento, refer to: https://msg91.com/help/MSG91/what-is-segmento-and-how-to-send-emails-using-it
From Campaign API/code : 
API Doc link- https://docs.msg91.com/p/tf9GTextN/e/cRzeSCc6o/MSG91
For code, refer to the below screenshots-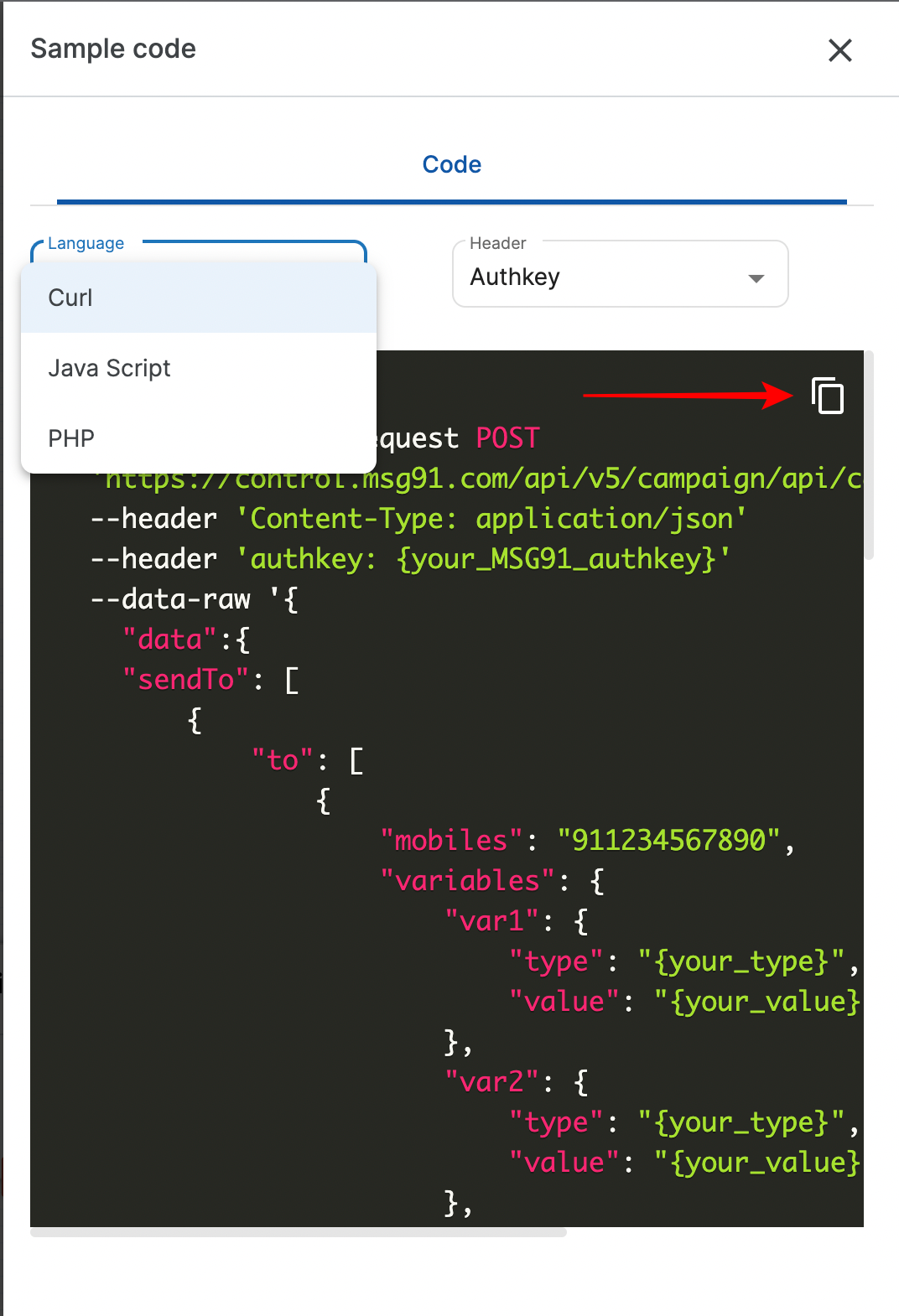 How to check the reports of the campaign?
1. After running the campaign via API or Segmento, you can check the reports under the Campaign section only. Click on the added campaign.
2. The logs are available on the right side of the screen.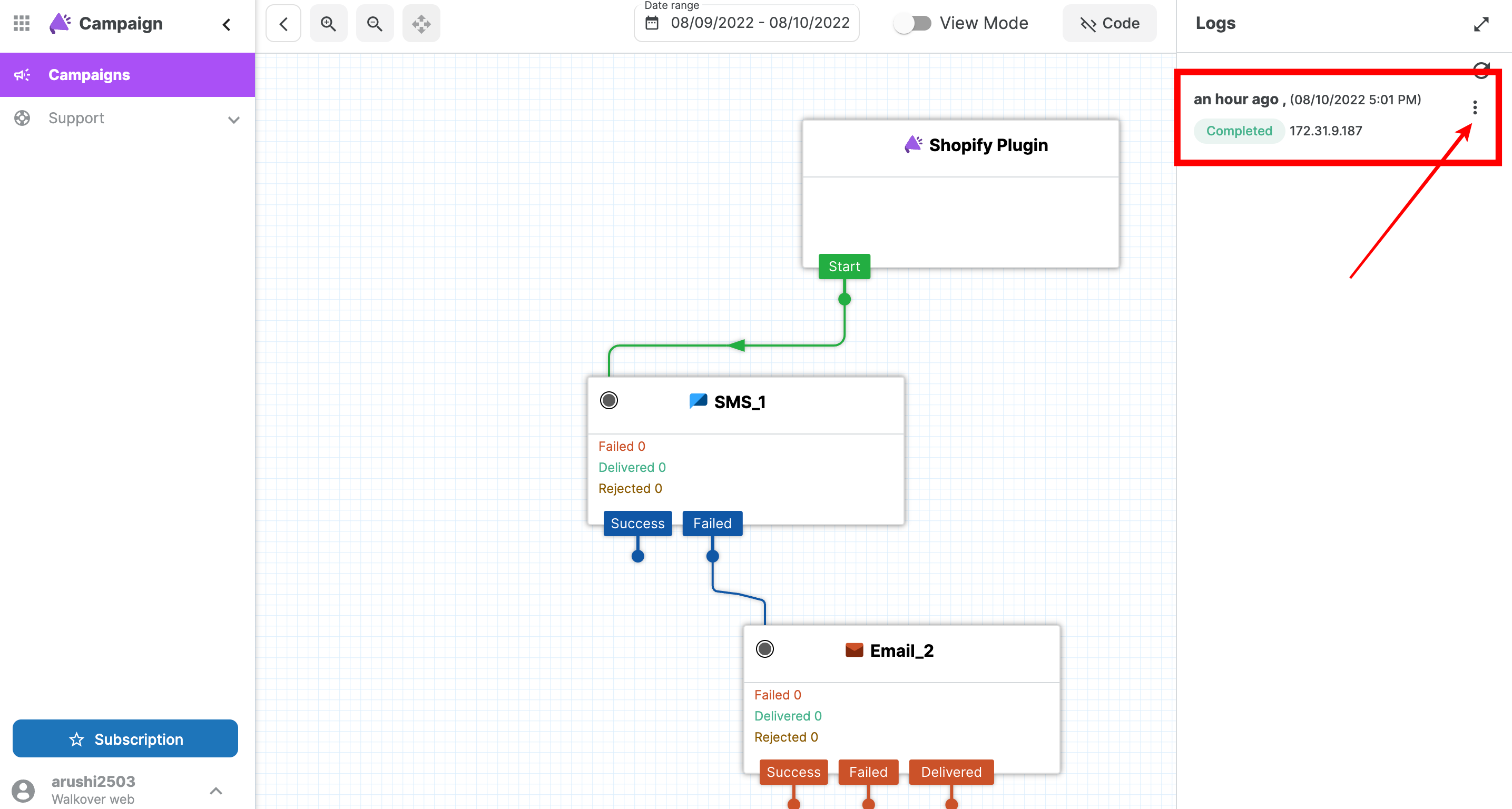 3. For checking the complete details, click on the three vertical dots.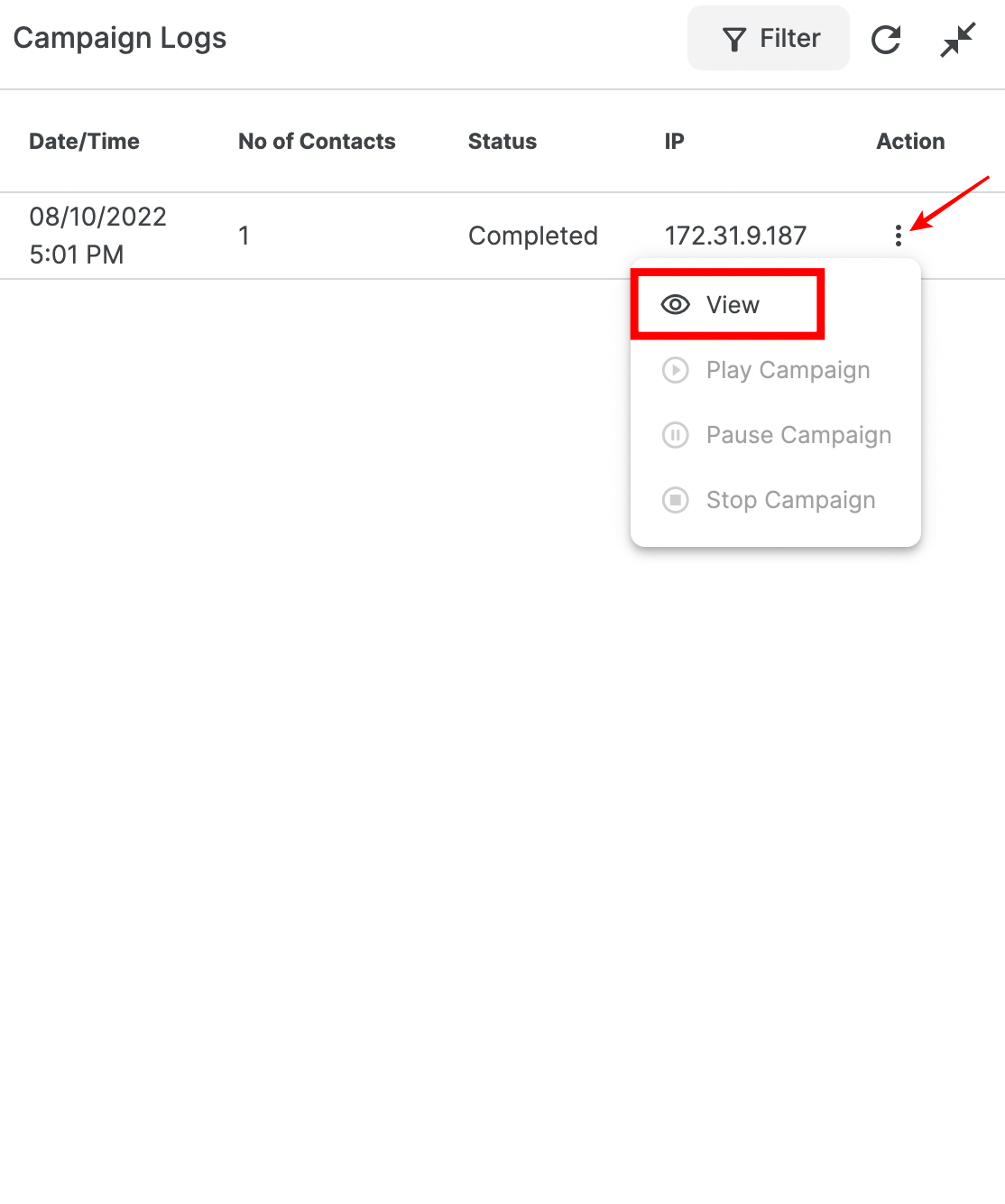 ---