WhatsApp- FAQ


Q. What all nature of messages can be shared via WhatsApp with the end-user?
Ans: Customer Notifications, Marketing, Promotional messages, and other transactional messages. Please note that Authentication templates and Newsletter categories are not currently supported.

Q. Which number can be shared for WhatsApp Business Account?
Ans: To onboard a number for the WhatsApp business account, we will need to complete an OTP phone call together. For the call, you will need to have access to the phone number. During the call, we will schedule this phone to ring, and you will need to answer it. It will then state a 6-digit code and all you need to do is to let us know what the code is.
A number can be mobile, landline, or contact center number.
For Landline and contact center: It should accept international calls, as most of the OTP calls will come from +1 numbers. It's favorable if the number is with a  +91 country code prefix. IVR enabled, this needs to be turned off for the duration of the call so that a person can answer the phone, not the machine.

Q. Any character limit on WhatsApp messages?

Ans: A WhatsApp message comprises different parts like body, footer, and button, adding them to your message is optional, A body can have a maximum of 1024 characters, a footer can have a maximum of 60 characters, and each button can have a maximum of 20 characters.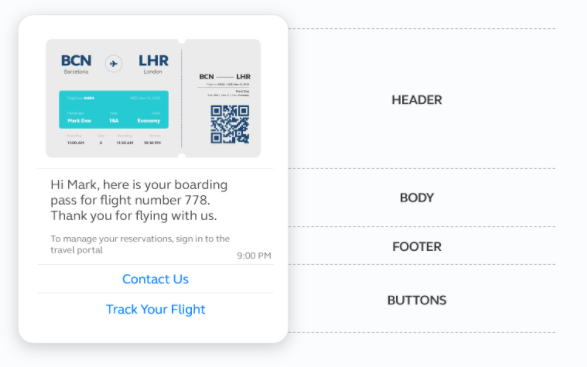 Q. What type of file attachment is possible in the header part of the message and any size limitation?

Ans: The header can be of the media type and can send over files like videos, images, and documents.
File Type of Document: PDF, DOC(X), PPT(X), and XLS(X) [Document file sizes can be up to 100MB.]
File Type of Image: JPG, JPEG, and PNG [Image sizes can be up to 5MB.]
File Type of Video: MP4 and 3GPP [Video sizes can be up to 16MB.]
Q. Needs to understand more about template?

Ans: Please follow this link to WhatsApp's exclusively made template guidelines https://developers.facebook.com/docs/whatsapp/message-templates/guidelines
Q. What's this Session, how is this created, and for how much time?
Ans: The messaging window for WhatsApp is when an end-user has responded to a message you the business has sent, thus opted-in temporarily to receive all message types for 24hrs.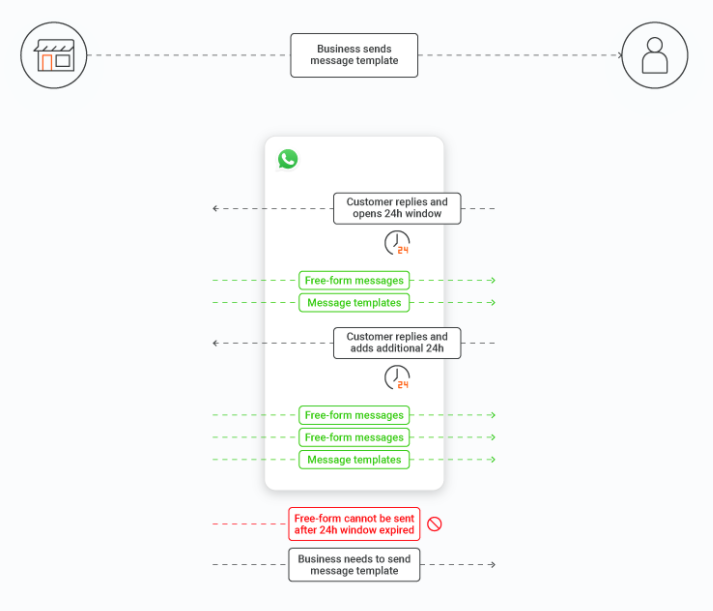 Q. How many messages I can send in 24 Hours i.e., what are WhatsApp Messaging Limits?

Ans: WhatsApp follows a unique self-up-gradation approach, if a user has bypassed their messaging limit in a defined time period, they upgrade the user to the above tier.
Tier 1: Allows your business to send messages to 1K unique customers in a rolling 24-hour period.
Tier 2: Allows your business to send messages to 10K unique customers in a rolling 24-hour period.
Tier 3: Allows your business to send messages to 100K unique customers in a rolling 24-hour period.
Q. How to get a green label on your WhatsApp account?

Ans: Your account must represent a well-known, often searched brand or entity. We review accounts that are featured in multiple news sources, and we don't consider paid or promotional content as sources for review. Our criteria for WhatsApp Official Business Accounts are based on a number of factors and are different from policies on other platforms.
Please note that you will be able to submit another request for review only after 30 days. In the meantime, this decision doesn't limit your ability to share your business details. For example, each phone number also has a business profile which includes a profile picture, email, website, and business description. These are fields that you can edit at any time.
Learn More
Q. Can I use the WhatsApp Business number on mobile after WhatsApp service activation? 
Ans: Once you migrate your number to the API, you will no longer be able to use the WhatsApp Business App with that number.
Q. Can I check the number before sending the Whatsapp messages that the number is available on WhatsApp or not?
Ans: It is not possible to check WhatsApp availability before sending Whatsapp messages.

Nivedita patel
LALIT PURVE

13, October, 2023
Did it help you?
How can we make it better?