WhatsApp pricing and how to subscribe for WhatsApp services?
Once your registration gets completed on meta and integration steps will be completed with MSG91. Subscribe to the WhatsApp plan to start using WhatsApp services. 
Step 1- Login to your MSG91 account and Choose WhatsApp.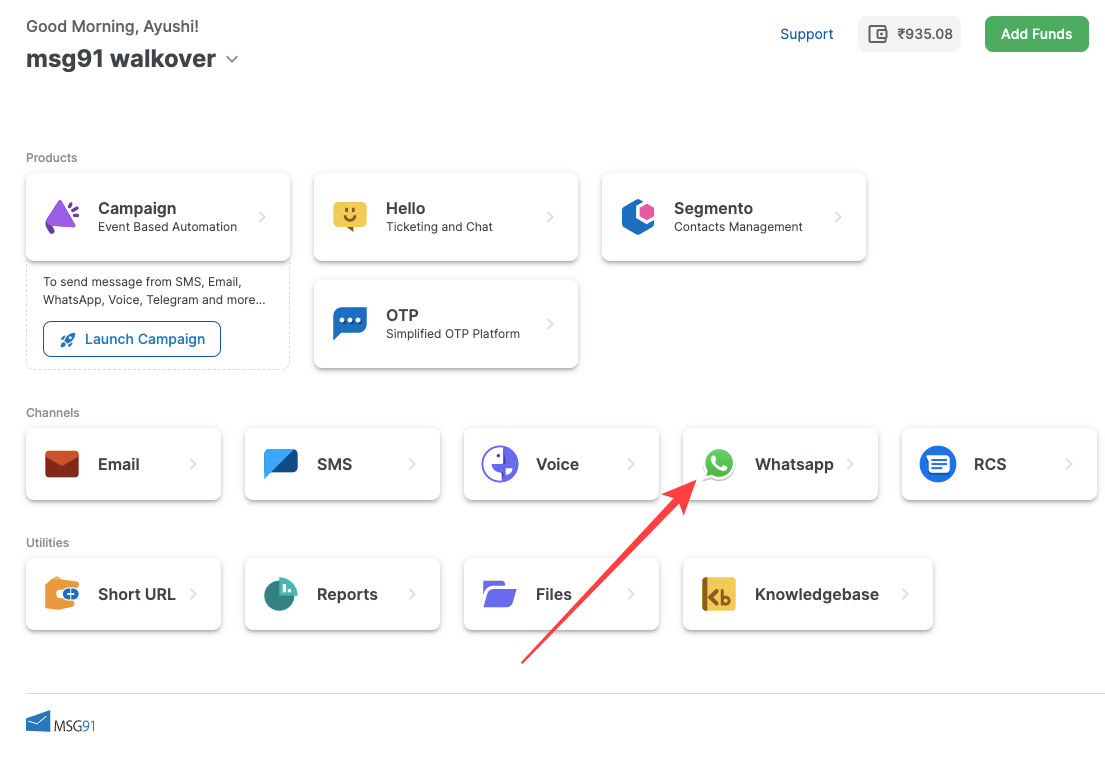 Step 2- Click on Subscription and then you can subscribe to a free plan in which you will get free 1000 sessions every month by MSG91 & for the same, you will get charged by Facebook (Meta). After 1000 sessions MSG91 will also start charging you.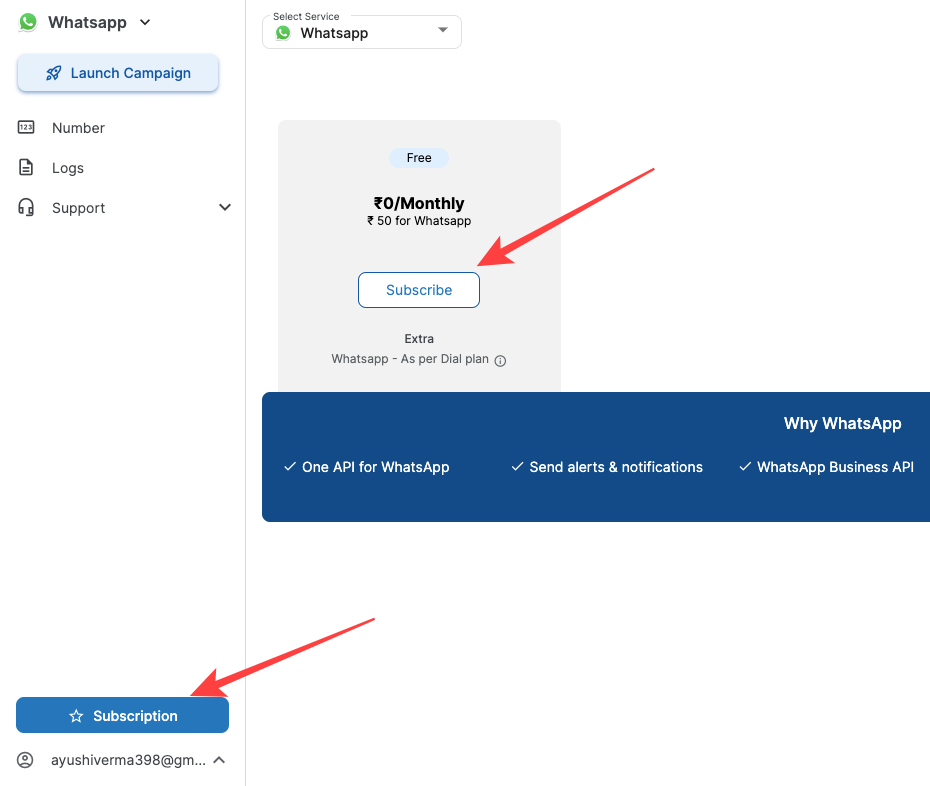 ​WhatsApp Template Category Description:
Marketing – Send promotional offers, product announcements, and more to increase awareness and engagement.

Authentication – Send codes and OTPs that allow customers to securely access their accounts.
Utility- Send account updates, order updates, alerts, and more to share important information.
Facebook Charges:-
There are 3 categories in Business initiated message
a) Utility- 30 Paise
b) Marketing- 72 Paise
c) Authentication- Not finalized yet from Meta.  
d) User initiated message- 29 Paise
To know the MSG91 Charges, please click on the "I" Icon and the pricing will be visible as below:
a) Utility- 3 Paise  
b) Marketing- 5 Paise
c) Authentication- 3 Paise
d) User initiated message- 3 Paise
​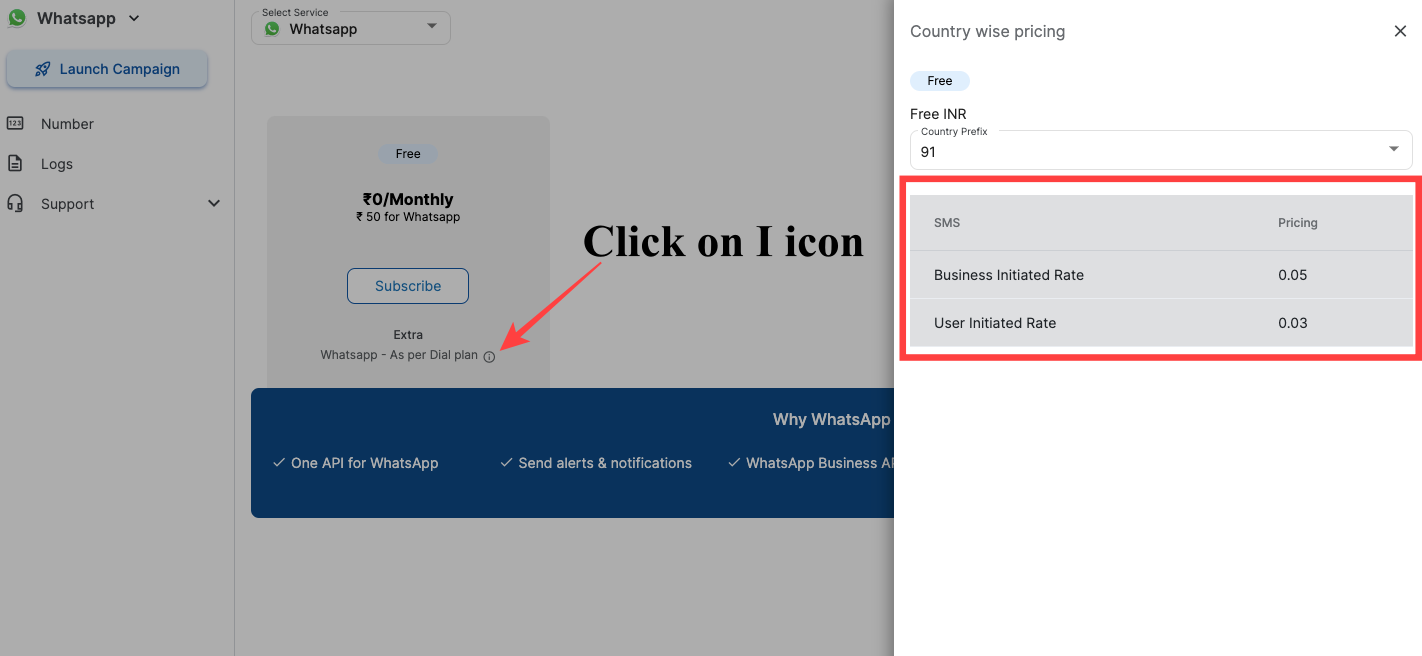 Step 3- Click on the Subscribe button of the plan and proceed.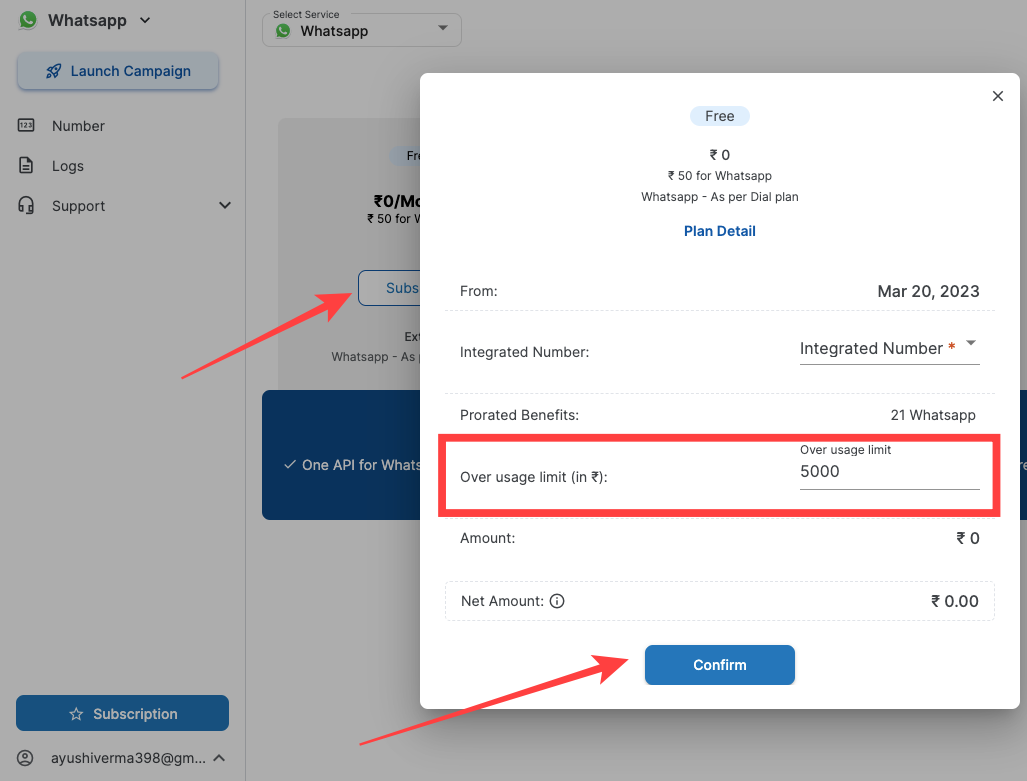 Over usage limit: It defines the number of WhatsApp you wish to send after the consumption of free 1000 sessions in the subscribed plan and the further WhatsApp message will be allowed to be sent as per the over usage limit and the post-paid billing would be done accordingly.
Free Session:
1. User-initiated conversations: If the business responds to a message initiated by the user with text/media/location; those messages will be free for the next 24 hours from the business replied (but user-initiated charges will be applied for the first message)
2. Business conversations: If the business sends a template of some category; then the message will not be charged for 24 hours for that category template if sent back again of the same type.
3. Free conversations: If the user responds to a message with an action button; i.e. visit a link or call a number; or the user clicks on a Facebook AD; then the business is allowed to send any kind of message from that particular time till 72 hours and no message will be charged during this time.
Paid Conversations:
1. User conversations: If the user initiates a chat, then user-initiated prices will be applied to those messages replied with a text/media/locations by a business. But, if the business replies with a template; the template category charges will be applied to that particular conversation.
2. Business conversations: If the business sends different category templates, those templates will be charged according to their category for the first message.
Note: This pricing change will be applicable from the 1st of June. 
If you still face any issues do not hesitate to drop us a mail at [email protected], we are always here to help you.
​

---

mahak sawlani

12, July, 2023
Did it help you?
How can we make it better?