How to use Voice Services
MSG91 is pleased to announce that our Voice service is now available to all of our wallet subscribers. Log into your MSG91 account and click on the Voice tab in order to use our voice services.
Once you are in, you can click on the Files option, then click Add File at the top right corner. Select the type of file you want to upload: Upload (.wav format only), Text to speech, Record from phone, Record from browser.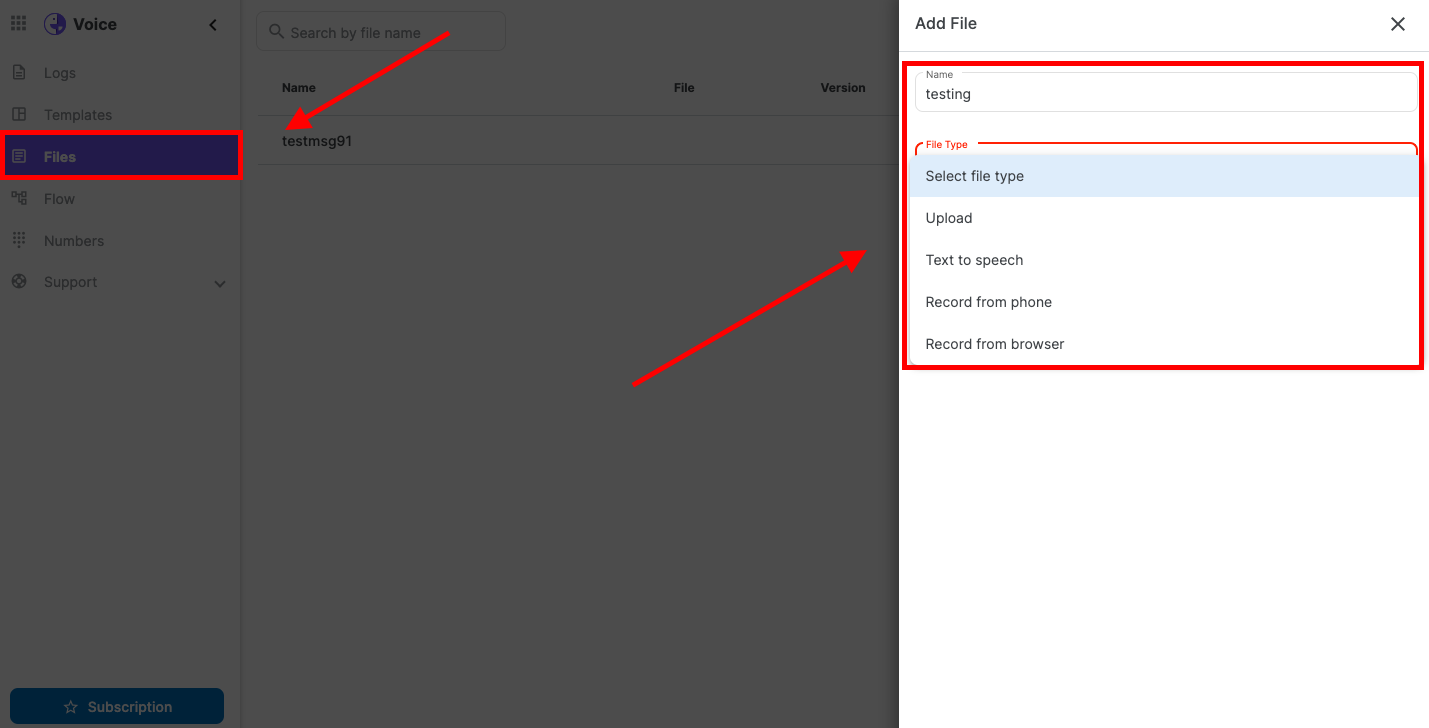 Select Voice Name, which is the language of the audio file, and then click Save. After the file is added, it can't be deleted or edited, but it can be edited or renamed.
After the uploaded file is approved, you can add the template by clicking on the Templates button and then clicking on Add Template here. Use @ to add files and # to add variables (variables can only be numeric).
In addition, you can create a Flow from the flow option that meets your specific business needs and apply a variety of conditions to it.
➝ Ring Group node: This node is used for calling purpose. we have 2 options presents here.
1.) Team: we can assign any team here. Team can be created in HELLO.
2.) Agent: we can assign any agent of the company.
The ring will first go to the agent's HELLO panel (required agent selected the correct caller id if there is more than one) and then if not answered will go on their mobile phones.
➝ Playback node: This node is used for adding a playback file. Here only active files will come in the drop down menu.
(NOTE: This playback node should not use for dtmf input playback as it will not stop if someone gives dtmf input in between the playback. We have a separate field in number input node for this functionality.)
➝ Number Input node: This node is used to take dtmf inputs. Here we have 4 fields:
1.) Filename: This will set a playback file for that dtmf input.
2.) Wait Time: This is time to wait for a dtmf input.
3.) Max Digits: Maximum number of digits one can use in dtmf input.
4.) Attempts: The number of attempts we will give user for dtmf input.
➝ Menu Conditions node: This is node is use for conditions. It will take input from number input node . It will direct the flow to the matching condition if no matching condition it will direct to default condition. It has 2 fields.
1.) Input Variable: It is a dropdown field from which you can select the available input variable nodes.
2.) Equal to: This will let you add the conditions you want. After typing the condition click the plus (+) button to add multiple conditions.
➝ Time Conditions node: This node will let you add the time conditions. It will direct the flow for the given time conditions and if no conditions matched it will go to default condition. It has 4 fields.
Logs for your voice services can be found in the logs section. The details that will be available there are Time Start, Source, Agent, Caller ID, Destination, Duration, Billing Duration, Charged, Status, Type, Direction and Recording. You can even use the Filter option in order to  sort logs in order to quickly organize your data and to find the data that you want.
​

​

By clicking on the number button you will get the Caller ID assigned to you by MSG91 which you can assign in various ways:
Directly to a team member added your account

To a team added in your MSG91 account

To an existing voice Flow created in your account.

No Flow assigned.