RCS Form Registration Guide
Follow the below steps for RCS form registration also, please note that RCS services are currently on hold for India:
1. Click on the RCS option from your MSG91 Dashboard.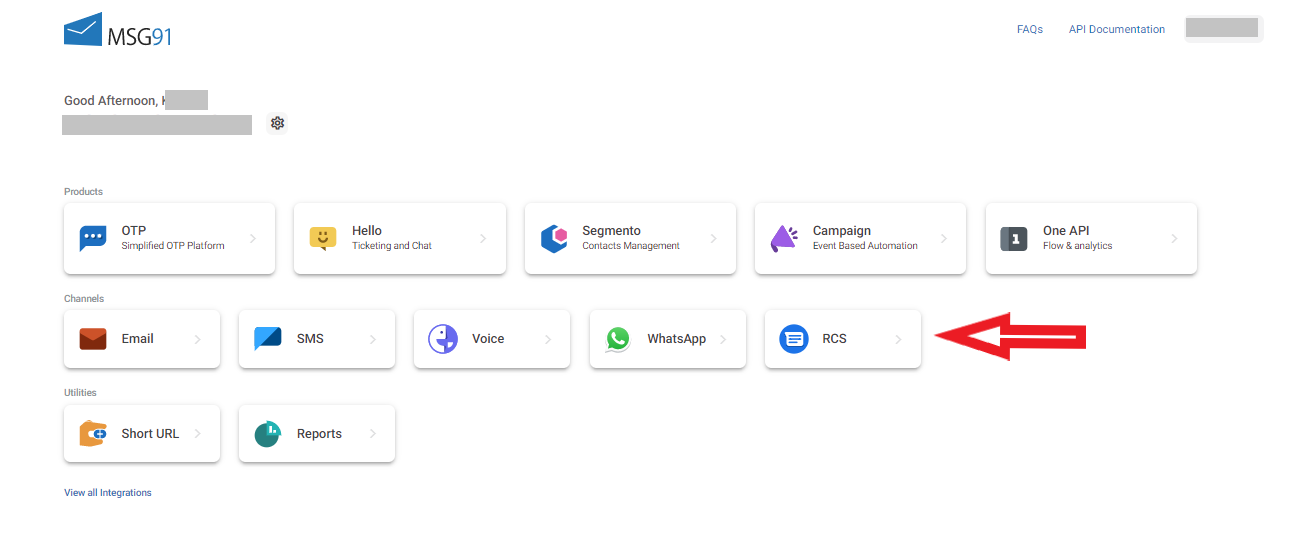 2. Click on Register Now to do RCS registration.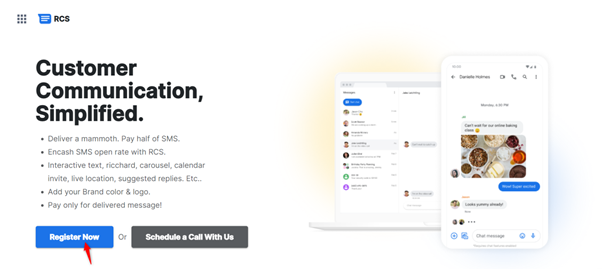 3. Now, you get a registration form. Fill up the form accordingly. Let us understand a field with an example: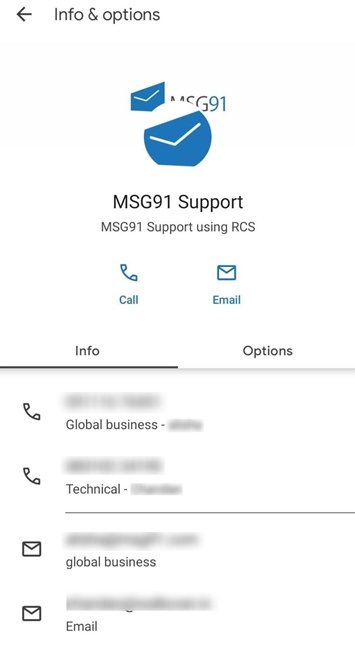 a. Display Name: Here put the name, you want to display when a message gets delivered: Eg: Brand Name.
b. Description: Here you put the description you want below the brand name. Eg: Brand Description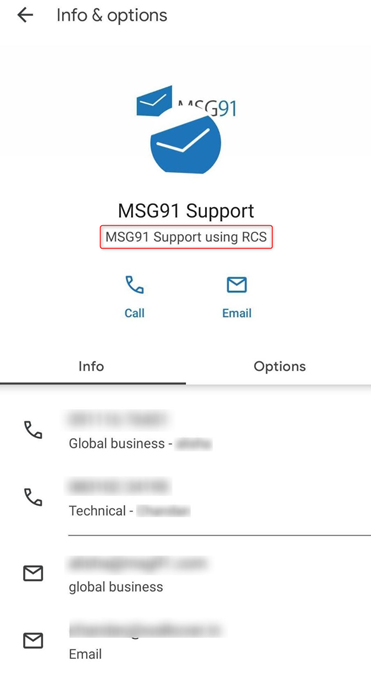 c. Color: Here give the brand color so that icon and the selected items are displayed in that specific color only.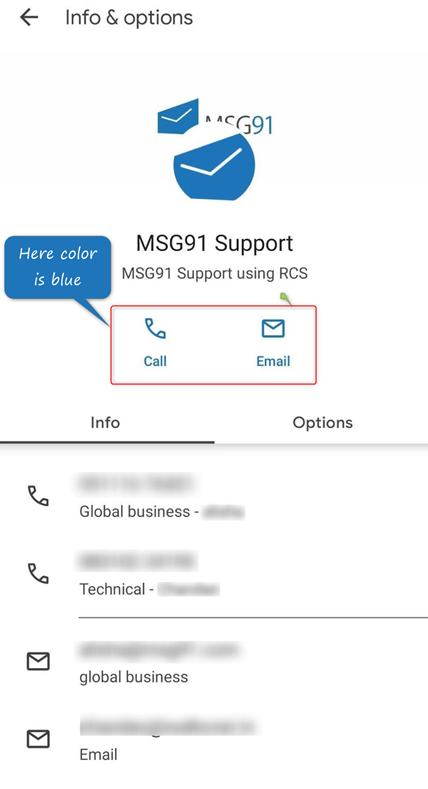 d. Image:
Larger banner image (1440 x 448)*: Here put the background image.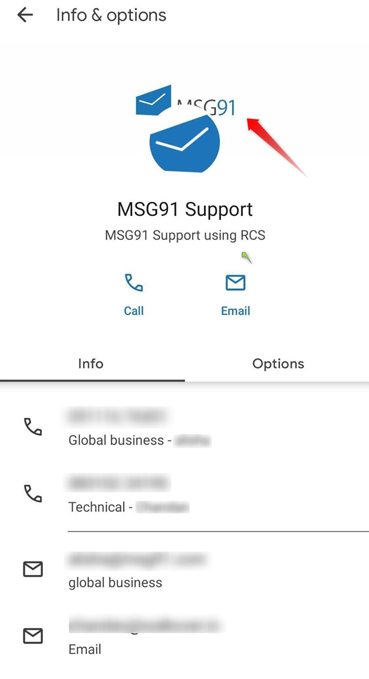 Small logo (224 x 224): Here put the brand logo.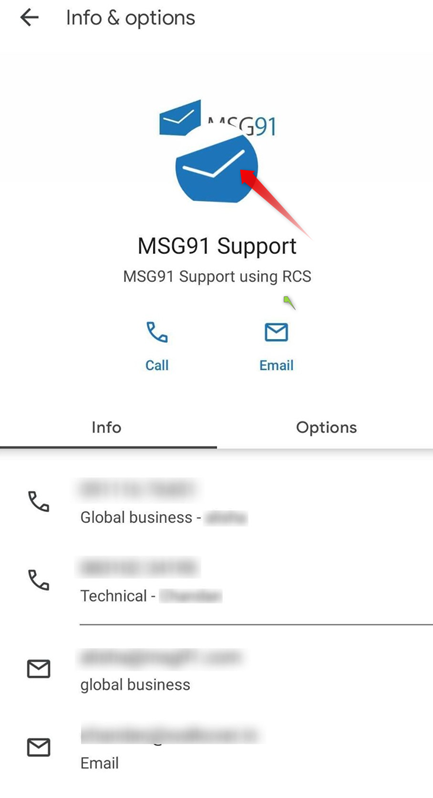 e. Region: Select the region.
f. Primary Phone Number: Provide the primary phone number to be displayed.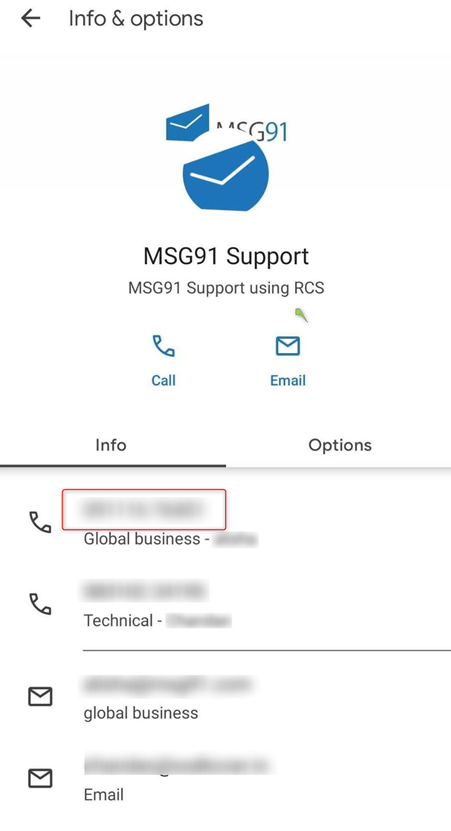 g. Label For Primary Phone Number*: Put the name to be displayed for the primary number.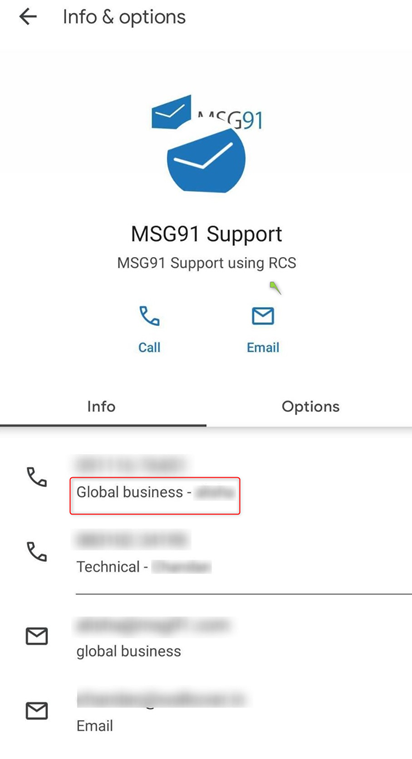 Note: You can add 2 more numbers.
h. Primary Website, Label for Primary Email: Here you can put the website to be displayed and the name to be displayed, but is completely optional.
i. Primary Email: Email to be displayed.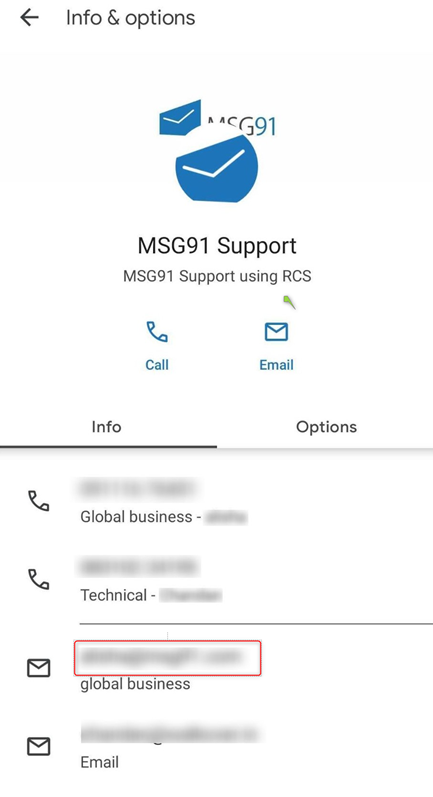 j. Label for Primary Email: Here is the label to be displayed in the email.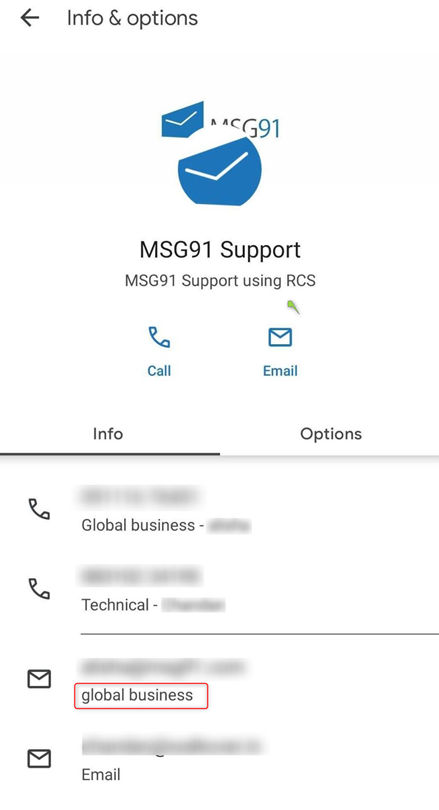 k. Terms of Service: Put the terms and condition page URL from website.
l. Privacy Policy: Put the privacy page URL from website.
m. RCS Use: Select the medium through which you want to use RCS with.

4. Click on the next option.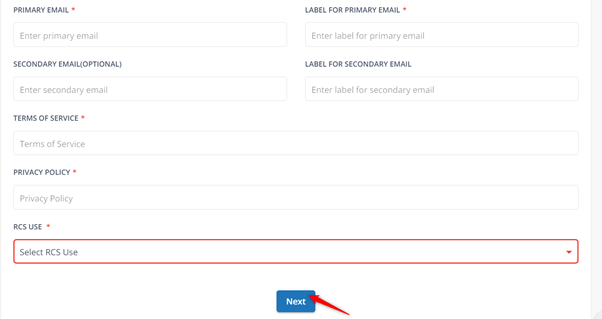 4. Fill the onboarding details: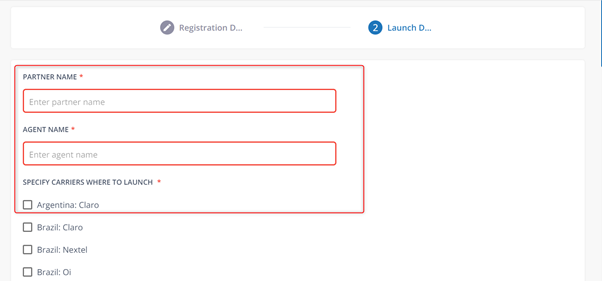 a. Partner Name: Put MSG91
b. Agent Name: Here put the name by which message will be sent. It can be your brand name.
c. Specify Carriers where to launch: Here specify the country where recipient will receive and also its operator.
d.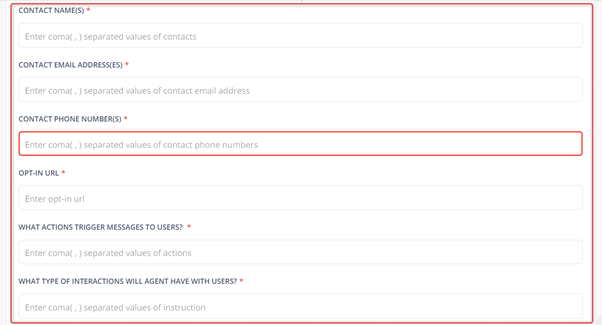 Contact Names: Mention the name of your company's point of contact.
e. Contact Email Address: Mention the email address of your company's point of contact.
f. Contact Phone Numbers: Mention the contact number of your company's point of contact.

Note: You can add more than one contacts using commas, but make sure the order is the same for all three: contact name, contact email address and contact phone number.
g. Opt-in-URL: Opt-in is critical for approving the agent launch. Provide details for how opt-in is acquired. If opt-in is through a website or an app, provide web address.
h. What actions trigger messages to users? When is the first message sent from the agent to the user? Are messages sent at a consistent date/time, do user actions (such as a purchase) trigger messages, or do external triggers (such as package delivery) trigger messages?
i. What type of interactions will agent have with users? What are the agent's primary (those that occur most commonly) and secondary (those that are possible but less common) interactions? Type of message that will be sent. Example: Promotional, Transactional, OTP
g.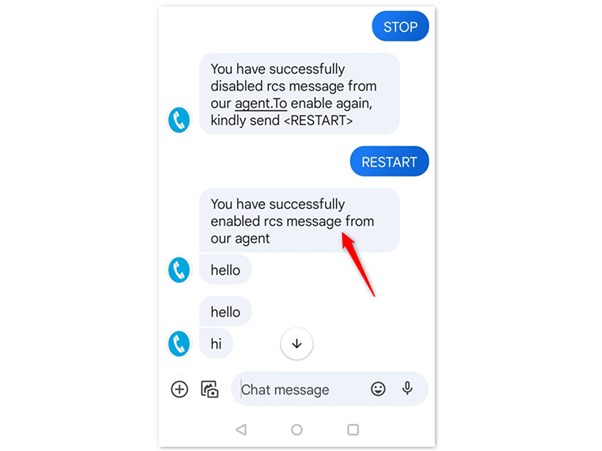 What message does the agent send when user opts out? When a user sends the word "STOP", your agent must reply, confirming that the user is opted out and won't receive more messages unless they opt in again. The agent can't send the user additional messages after this. Your agent must recognize "STOP" in English and the equivalent translations in other languages the agent supports.
h.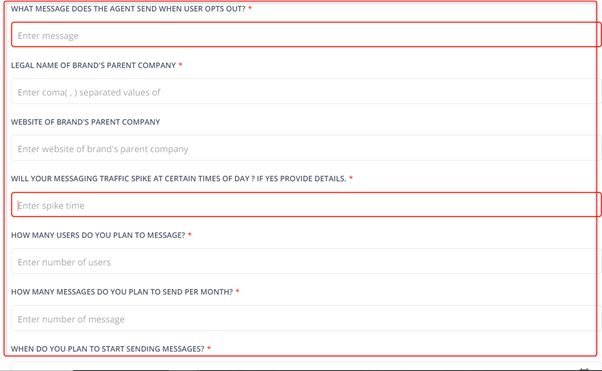 The legal name of brand's parent company: Here provide the name of the parent company or the company name whichever is applicable.
i. Website of brand's parent company: Here provide the URL of the parent company or the company whichever is applicable.
j. Will your messaging traffic spike at certain times of day? If yes provide details: Provide the time of the day when the maximum number of messages will be sent.
k. How many users do you plan to message? No. of planned user you want to send messages to. Max no of user is 8946554. We suggest to put the maximum number.
l. How many messages do you plan to send per month: Put a tentative number of messages you plan on sending your client
m. When do you plan to start sending messages? Starting Date from which you want to send the messages.
Agent access instructions: Here put information how you will reach your client.
o. Video URLs (video for how you will use RCS): If you prefer to review your agent via video, provide a URL for a video showing your agent's core functionality and opt-out capabilities. URLs must be publicly accessible.
p. Screenshot URLs (images for how you will use RCSS: Screenshots aren't required, but they give your agent better visibility and make reviews easier.URLs must be publicly accessible.
6. Once you fill up both form, click on Submit.

Did it help you?
How can we make it better?