MSG91 is bringing a new currency-based wallet system to simplify credit management.
To manage credit deduction across all services like Email, SMS, WhatsApp, RCS, and Voice, it was essential for us to move our users from a credit system to a Wallet (currency) system, this will be helpful in order to centralize the deduction process.

How does our wallet mechanism work?
Once you have charged your wallet with X amount, you will be able to send SMS ( transactional, promotional, or Send OTP) without having to manage the balance in each service, you will be on a pay-as-you-go centralized deduction platform.
Also, you can check the number of messages you can send via all 3 routes with the balance available in the wallet from the dashboard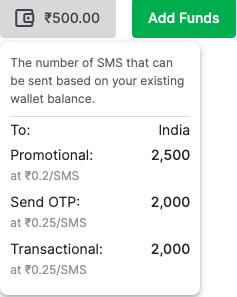 Help Docs for your reference:
Buy Credit from Wallet Help Doc


Bonus Amount Addition and Deduction: Help Doc


Understand amount deduction from Delivery Logs: Help Doc
 Contact [email protected] for more discussion
Jay Panjwani
22, August, 2023
Did it help you?
How can we make it better?