Wallet: Bonus Balance Addition and Deduction

Many a time, user is provided with bonus credits to check out our services, and to do so we provide a bonus balance in that particular service.

If you have been allotted some bonus credits in any service like SMS, Email, Voice, etc that amount will be shown as an extra added amount in that respective service only. The cost of using that service will be charged from the additional bonus balance and once it is exhausted, the deduction will be made from the Wallet amount.
For Example:
If you have been allotted 1000 extra amount in SendOTP service and you have 30000 in your Wallet, at the time of deduction, the balance from your bonus balance will be deducted and not from your Wallet. Once the SendOTP bonus balance is exhausted, the balance will be deducted from the Wallet balance.

Kindly note that this bonus balance is non-transferable i.e., you cannot transfer bonus balance allotted in SendOTP to Transactional SMS or Email.
​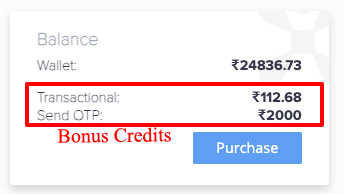 Did it help you?
How can we make it better?