Login using Whitelisted IP address
MSG91 provides a security feature that allows access only through whitelisted IP addresses. If you add a Team member to your MSG91 account, you will have an option to add an IP address (IPv4 / IPv6) by which the member can log in. They will be denied access if they attempt to access the account using any other IP address.
Below mentioned steps will guide you further with it:
1. Login to your MSG91 account and click on the settings icon

2. Click on the All users section from the sidebar and then click on Invite user.
3. Now you can mention the email address of the member you want to invite and select their roles (Owner, Admin, or User) post which you can whitelist the IP address for that member (IPv4 / IPv6). Please make sure to hit Enter once you add the IP address. You can add multiple IP addresses as well.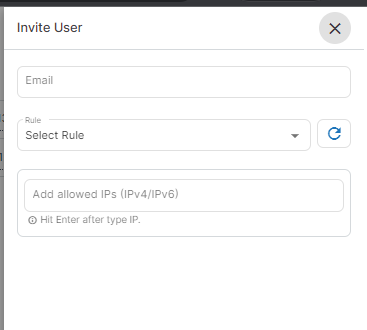 4. You can click on Invite once you have whitelisted desired IP addresses. You can also whitelist the login IP addresses of existing members as well. You can click on the pencil icon under the action heading and add the IP address to be whitelisted from there.


Priya Raghuvanshi

26, June, 2023
Did it help you?
How can we make it better?