Wallet Guide
MSG91 is bringing a new currency-based wallet system to simplify credit management.

How does our wallet mechanism work?
Once you have charged your wallet with X amount, you will be able to send SMS ( transactional, promotional, or Send OTP) without having to manage the balance in each service, you will be on a pay-as-you-go centralized deduction platform.
Also, you can check the number of messages you can send via all 3 routes with the balance available in the wallet from the dashboard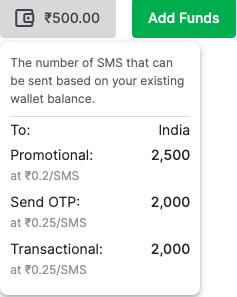 Help Docs for your reference:
​

Bonus Amount Addition and Deduction: Help Doc


Understand amount deduction from Delivery Logs: Help Doc
 Contact [email protected] for more discussion

Jay Panjwani
a y

26, October, 2023
Did it help you?
How can we make it better?