How to apply for WhatsApp Green Tick Verification?
WhatsApp Green Tick Verification is different from WhatsApp API Verification. In this article, we'll show you the Whatsapp business verification process and how to get verified on WhatsApp easily. For example, a business may be approved for using WhatsApp APIs but may not have a Green Tick.
What is WhatsApp green tick?
WhatsApp Green Tick is a badge that appears on your WhatsApp API number profile. You will receive it once your Business profile has been successfully verified by WhatsApp, indicating that you are an Official Business Account.
Benefits of a verified badge?
A green tick badge indicates that your brand is genuine, one-of-a-kind, and trustworthy.
1. Obtaining the Green tick badge can help reduce the number of times your customers block you.
2. It may also increase the read rate of your messages, resulting in a higher ROI on your messaging costs.
3. It can eventually become a part of your overall branding.
4. Customers can see your brand name even if they do not save your business contact information. More faith!
WhatsApp is exploring newer ways to connect with the businesses that matter to their customers. Once WhatsApp has verified that your phone number belongs to a business, the green tick badge ✅ appears next to your profile picture. The green tick badge confirms that WhatsApp verifies your phone number.
You can apply for Green Tick after being approved for WhatsApp Business APIs. Very few businesses meet WhatsApp's official business account criteria. WhatsApp typically grants Green Tick or an Official Business account to minimal and highly reputed businesses.
Types of business accounts
There are two types of WhatsApp business accounts:
1. Official Business Account
WhatsApp has verified that an authentic, notable brand owns this account.
An official business account has a green checkmark badge and chat thread headers in its profile. 
The business's name is visible even if the user hasn't added the business to their address book.
Very few businesses will be official business accounts.
2. Business Account
Any account using the WhatsApp Business API or WhatsApp Business App is a business account.
WhatsApp verifies the authenticity of a brand for every account on the WhatsApp Business API.
Official business account
If your WhatsApp account is an official business account, the display name will be visible in the chat list, chat screens, chat groups, and contacts view instead of the phone number. In addition, there will be a green checkmark beside the displayed name in the contacts view.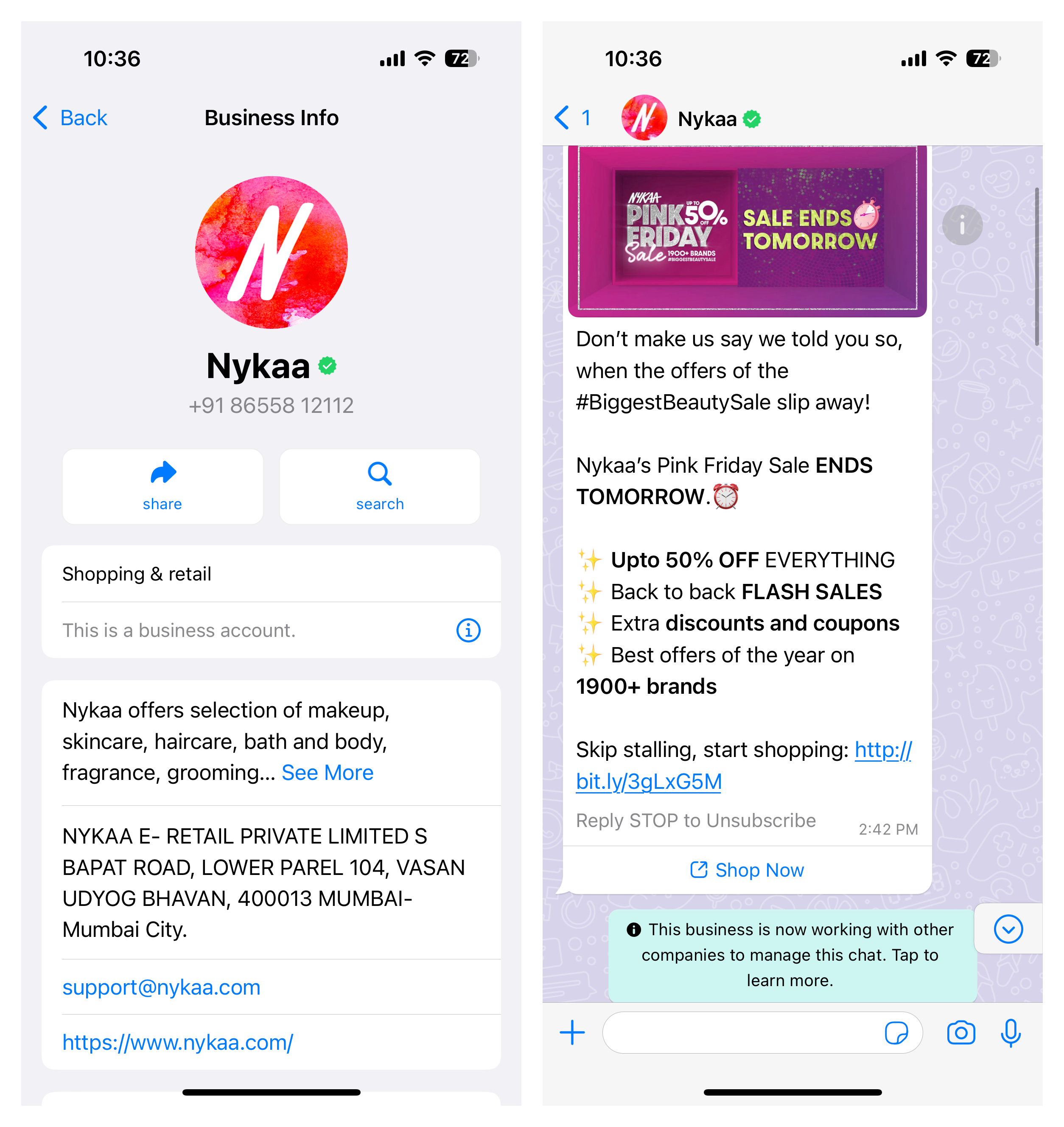 Business account (with API access, but without Green Tick)
If your WhatsApp account is a business account, it will only show the display name in the contacts view in the smaller text; all other views will show the phone number. You can help customers learn more about your company by filling out your business info, including your business website, address, and hours.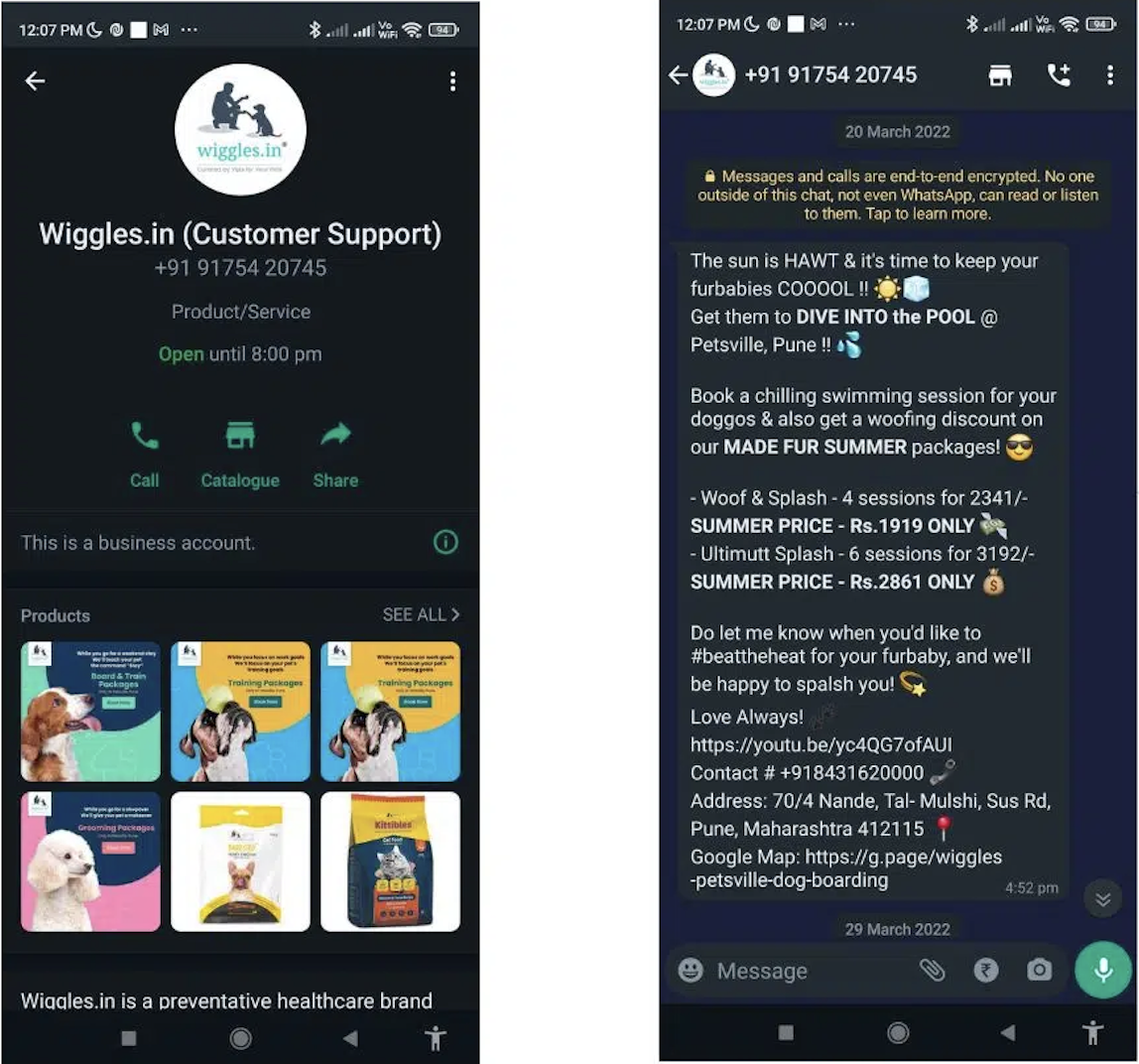 FAQs
Can I still use WhatsApp APIs without green tick?
Yes. Not having a Green Tick on your account does not limit you from using WhatsApp Business APIs. You can continue to use WhatsApp Business APIs without a Green Tick. You will have access to all WhatsApp API features.
What are the eligibility criteria to get a green badge? ✅
You must be using WhatsApp API Approved Business Account
You must enable 2-Step Authentication
Facebook Business Manager account must be verified by Facebook
Must be a business (Individuals are not allowed as of now)
Recommended you are in Tier 2 or above messaging level
Must be a notable and reputed brand
How long does the green tick verification process take?
Green Tick application decision takes typically about 1-2 business days. However, in rare cases, it may take up to a week.
What should you do if your green badge application is rejected?
The only distinction is how your profile and contact information appear to customers. So yes, the green badge makes it seem more official, but everything else remains the same, and you can run campaigns and support customers just like any other brand with the badge.
You can also try again after 30 days if you want.
What's the most critical factor in obtaining green tick verification?
Having 3-5 PR articles about your company increases the likelihood of your account getting the green tick.
Which businesses are not eligible for WhatsApp green tick verification?
WhatsApp disallows certain business categories for WhatsApp API and hence for WhatsApp Green Tick Verification. Businesses dealing in the following products/services cannot be approved for using WhatsApp Business APIs:
Drugs
Tobacco Items
Gambling Businesses
Alcohol Brands
Weapons & Ammunition Businesses
Live Animals
Adult Product/Services
Medical & Healthcare Products
Dating Services
Cryptocurrencies
Note: You can follow these recommendations which increase your chance to get the green badge:
Some ad spends from Facebook

The high number of followers on Facebook or Instagram shows brand credibility.
For more information, visit their Official Facebook Documentation. 
---