Google Spreadsheet- How to send Emails
You can send Emails directly from your Google spreadsheet by using this add-on without switching back and forth to the panel. This add-on is introduced to save you time and help you to send Emails efficiently to all your contacts.
Video :

​
Follow the below-mentioned steps to send SMS directly by using the sheet:
Installation-
Install the SMS Sheet add-on from MSG91 in the Google spreadsheet.
Step 1: Click on Extension, hover to the Add-ons section, and click on the Add-ons section, and click on Get add-ons.


Step 2: Search SMS Sheet or MSG91, and click on it.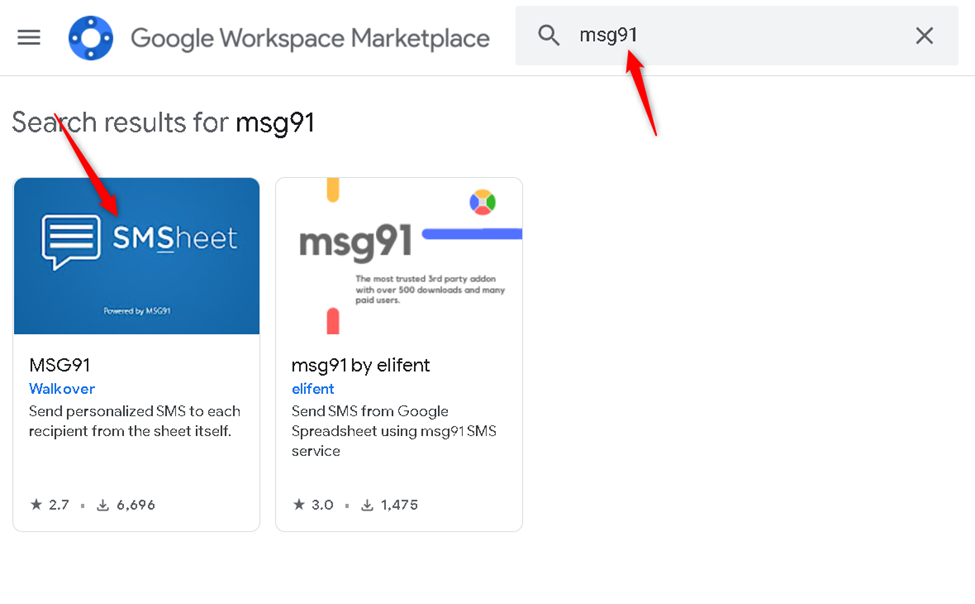 Step 3: Install the add-on.



For sending Email:- 
Step 10: Click on Extension and hover to MSG91 and select Transactional SMS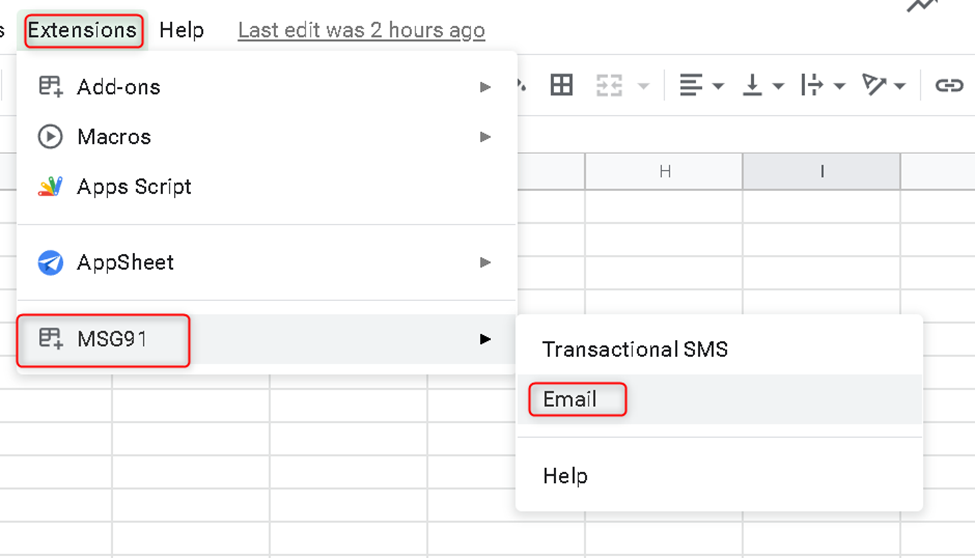 Step 11: Follow steps 5 and 6 above for the sign-in process.
Step 12: Select the recipient column from To. Also, you can select CC and BCC.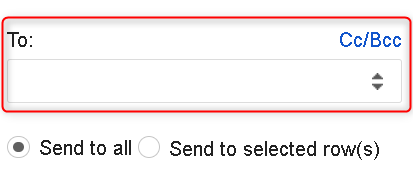 Step 13: Select whether to send all the contacts in a particular row or specific people.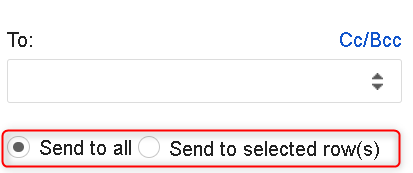 Step 14: Select the necessary details: from which email the recipient should receive, the domain of your company, and the name they will be receiving the email from.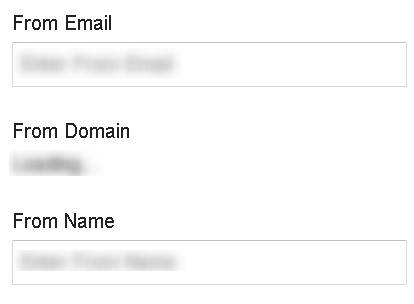 Step 15: Choose Email type. (Transactional or Promotional, or Notification) and choose the template. Then map the variables in the email template with the columns which have their values.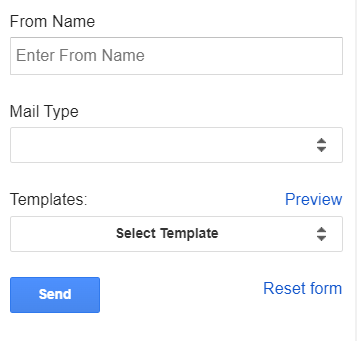 Step 16: Click Send.
If you are not seeing the options in MSG91 Addon-
Step 17: Click on Extension, hover over Add-ons, and then click on Manage add-ons.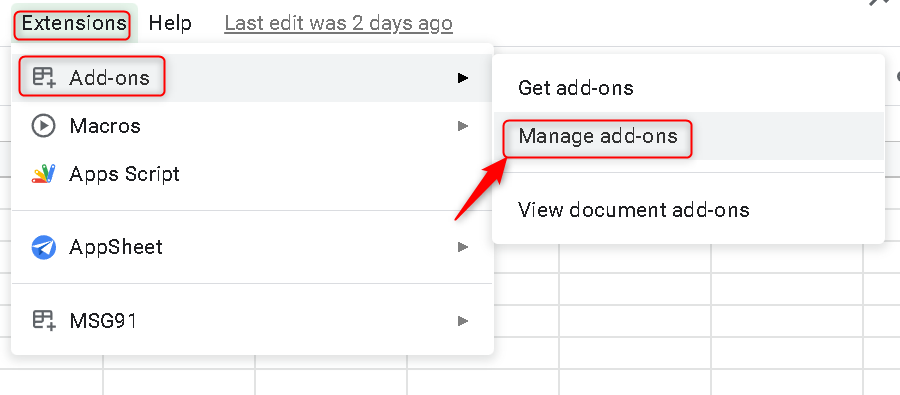 Step 18: Click on the three dots.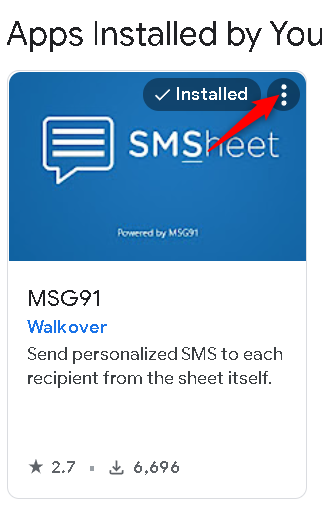 Step 19: Select use in this document option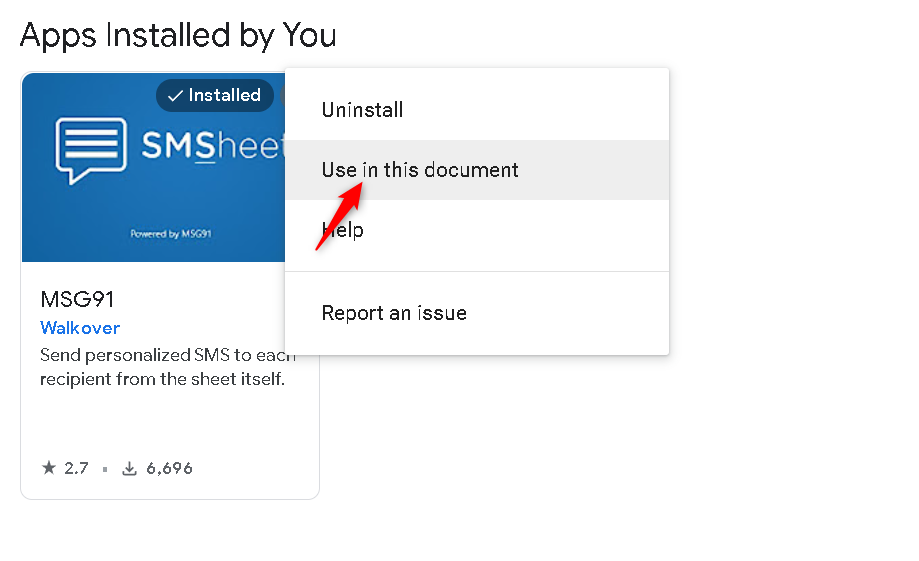 Note: If the option is already ticked, then skip this step. But you will need to refresh your window. After that, you can go to the MSG91 option from the Extension tab and you will see the Emai, SMS, or Campaign option.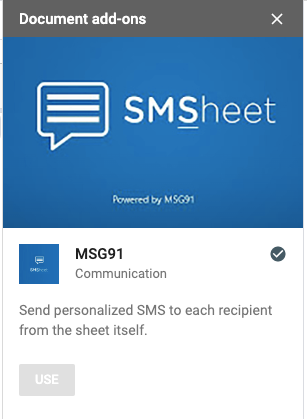 Did it help you?
How can we make it better?